Cornbread Stuffing
Recipe by Wildfire
This Thanksgiving, give your stuffing some southern influence with Wildfire's Cornbread Stuffing. If you prefer to skip the cooking, Wildfire is open on Thanksgiving Day for dine-in service and carryout.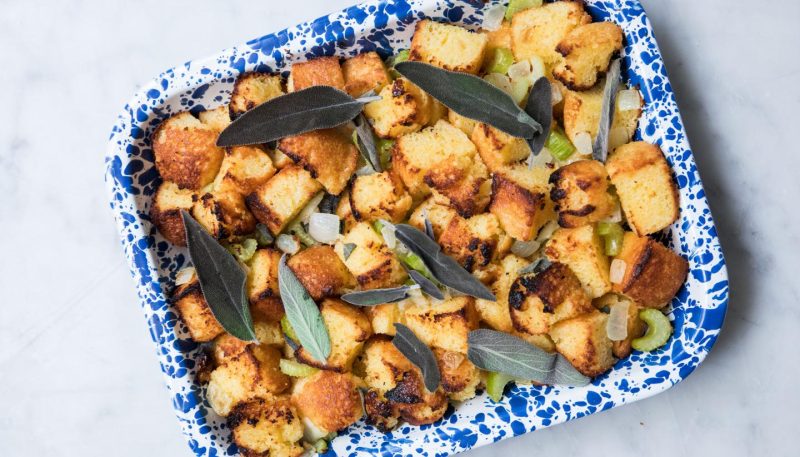 Cornbread Stuffing
Southern comfort in a baking pan
Serving Size: 8
Ingredients:
2 ½ pounds Wildfire cornbread or store-bought
4 slices applewood smoked bacon
8 ounces chopped onions
6 ounces chopped celery
1 tablespoon minced garlic
1 tablespoon chopped fresh sage
½ tablespoon chopped fresh thyme
½ tablespoon chopped fresh rosemary
2 teaspoon + ½ teaspoon Kosher salt and black pepper
2 cups chicken stock
2 ounces soft butter
2 whole eggs
½ teaspoon crushed red chilies
1 ounce butter, softened
Method:
1. Crumble cornbread onto sheet pan to slightly dry out while assembling remaining ingredients.
2. Mince bacon.
3. In a sauté pan, add bacon and cook over moderate heat until crisp.
4. Add vegetables and herbs and caramelize vegetables until tender.
5. Deglaze pan with chicken stock, scraping bottom bits of pan. Bring to a boil, then turn off heat.
Swirl in 2 ounces of butter.
6. In a large stainless steel bowl, fold all ingredients together, except 1 ounce of soft butter.
7. Spray 9"x13"x2" pan with pam spray and spoon mixture on evenly.
8. Dot with 1 ounce of butter, cover with plastic wrap and aluminum foil.
9. Bake covered in 350 degree oven for 30 minutes. Remove foil and plastic covering
and bake for another 20 minutes uncovered.
Download the recipe