Crab Dip
Recipe by Quality Crab & Oyster Bah
Inspired by Quality Crab & Oyster Bah, this hearty and delicious dip is the perfect appetizer. The Crab Dip is a signature at the restaurant and now you can make it at home for your next get together of for game day!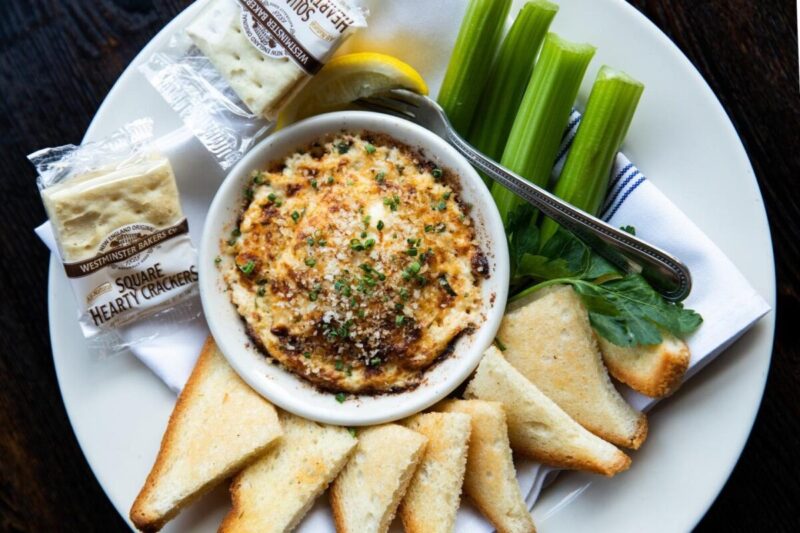 Crab Dip
Recipe inspired by Quality Crab & Oyster Bah
Serving Size: 8-10 people
Ingredients:
16 oz Blue Crab Meat (Quality Crab & Oyster Bah uses Fresh Backfin meat but Canned will do)
6 oz mayo
4 oz parsley (chopped)
1 1/2 lbs cream cheese
1 1/2 oz shallots ( minced )
1 1/2 tsp fish sauce
2 tbsp chili garlic sauce
1/2 tsp salt
2 lemons, zest and juice
Method:
1. Whip cream cheese in a mixer until soft.
2. Scrape cream cheese from the sides of the mixer.
3. Zest and juice lemons and put to the side.
4. Chop parsley and minced shallots.
5. Add all ingredients into the mixer until well incorporated.
6. Preheat oven to 450 F
7. Put crab dip mixture in a shallow baking dish (no more than 1 inch deep)
8. Cook for 6 - 7 minutes or until golden brown. Pairs well with toasted bread, celery sticks, and saltines.
Download the recipe