Espresso Negroni
Recipe by il Porcellino
Crafted by Bartender Hugo Toledo, il Porcellino shares their recipe for their Espresso Negroni. If you're a fan of espresso martinis, then get ready because this Espresso Negroni is about to become your new obsession.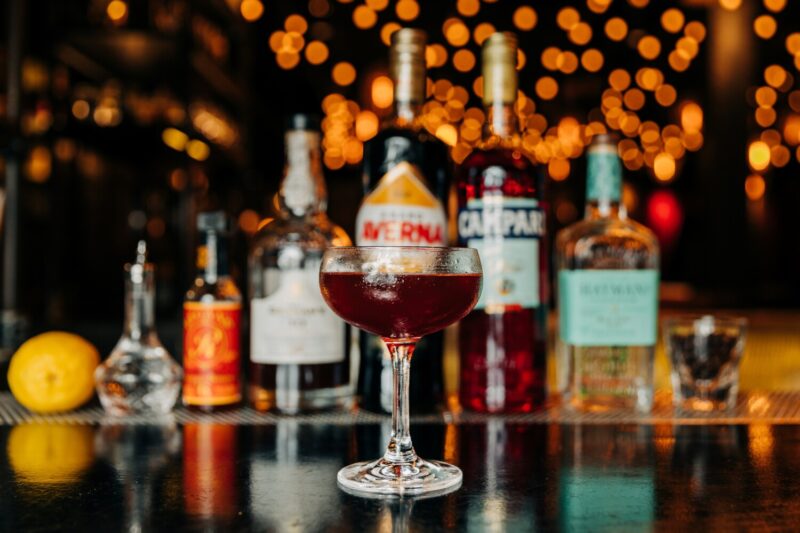 Espresso Negroni
A bold twist on a classic cocktail
Serving Size: 1 cocktail
Ingredients:
ESPRESSO NEGRONI INGREDIENTS
1 ½ oz Haymans gin
½ oz Averna amaro
½ oz Grahams port
½ oz espresso bean washed Campari - recipe below
2 dashes of sel gris - recipe below
1 dash of orange bitters

ESPRESSO BEAN WASHED CAMPARI INGREDIENTS
3 Tbsp cracked espresso beans
1 cup Campari

SEL GRIS INGREDIENTS
filtered water
Maldon sea salt
Method:
ESPRESSO BEAN WASHED CAMPARI METHOD
1. Combine your preferred cracked espresso beans with the Campari in a clear jar.
2. Let mixture steep for 1 day.
3. Strain beans after steeping.

SEL GRIS METHOD
1. Combine a 5:1 ratio of water and Maldon sea salt in a bowl. Mix until salt is dissolved.
2. Pour into container of your choice to store. We recommend a small dropper bottle.

ESPRESSO NEGRONI METHOD
1. In a mixing glass with ice combine all ingredients.
2. Stir with a bar spoon until mixture is chilled about 20 seconds.
3. Double strain contents into a chilled coupe glass.
Download the recipe