Faroe Island Salmon
Recipe by The Oakville Grill & Cellar
Take comfort food to the next level with Chef Max Robbins' Faroe Island Salmon recipe from The Oakville Grill & Cellar. Featuring tender salmon served atop a bed of Janie's Mill grits, accompanied by a BBQ glaze and charred ramps, this dish combines the best of healthy meets delicious. This is a recipe you'll want to keep on rotation!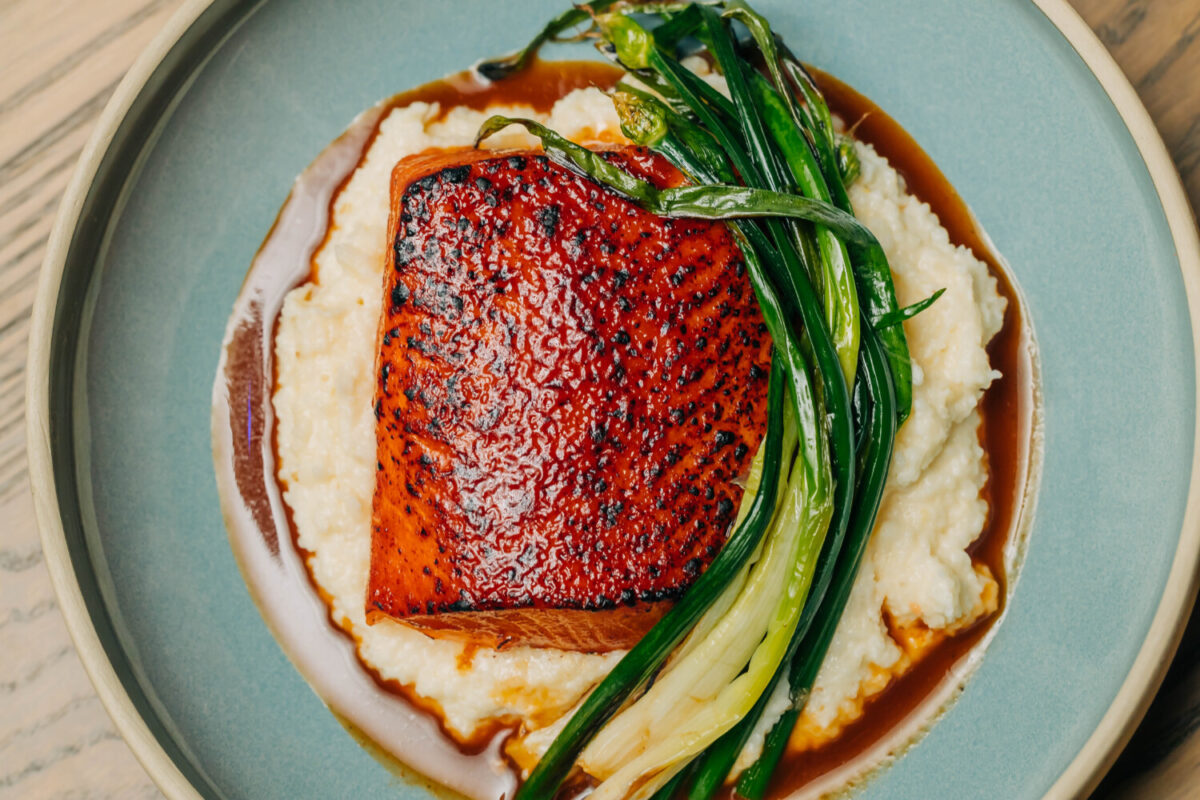 Faroe Island Salmon
With cheesy grits and grilled ramps
Serving Size: 4
Ingredients:
INGREDIENTS FOR BBQ SALMON
• 4 portions of salmon, 6oz each
• ½ cup of your favorite BBQ sauce
• 1 cup cooked cheesy grits, recipe to follow
• ½ cup BBQ jus, recipe to follow
• 8 - 16 ramps or green onions*
• Olive oil for grilling ramps
• Kosher salt to taste
•Black pepper to taste
*Chef's note: if you can't find ramps, green onions are a great replacement.

INGREDIENTS FOR CHEESY GRITS
• 1 ⅔ cups grits
• ½ cup chopped onions
• 1 Tbsp minced garlic
• 4 ⅔ cups milk
• ½ cup butter
• ¼ cup gouda, shredded
• 1 tsp salt

INGREDIENTS FOR BBQ JUS
• 1⅛ cups of your favorite BBQ sauce
• 2 cups chicken stock, unsalted
• 1 bunch black kale or collard greens
• 1 tsp fish sauce
• ¾ tsp salt
• 2 Tbsp white vinegar
Method:
METHOD FOR BBQ SALMON
1. Preheat oven or grill to 450F.
2. Brush the tops of each salmon portion with your favorite BBQ sauce and then salt.
3. Place salmon on a sheet tray and bake in the oven for 12 - 15 minutes, or place directly on the top rack of a hot grill, cover and grill for 15 - 20 minutes.
4.On a baking sheet arrange ramps and drizzle with olive oil and season with salt and pepper. Toss until well coated. Place ramps on hot side of grill and cook, turning occasionally, until tender and charred, about 2 minutes. If not using a grill, sauté them in a large pan for about 2 minutes.
5. While the salmon cooks ensure that the grits and jus are hot for serving.
6. For serving, place ¼ cup of the cooked grits at the center of each plate. Next place a portion of salmon atop the grits. Then, surrounding the grits, carefully sauce around 2 tablespoons of the BBQ Jus. Top each plate with grilled ramps or green onions.

METHOD FOR CHEESY GRITS
1. In a large saucepan, sweat the garlic and onion with salt in a quarter of the butter.
2. Add the grits and toast.
3. Add the milk and cook until thick about 25 - 30 minutes.
4. Fold in the remaining butter and all of the cheese. Mix well and reserve.

METHOD FOR BBQ JUS
1. Combine ingredients in a saucepan combine all the ingredients.
2. Bring to a boil and then reduce to a gentle simmer. Cook until the liquid is reduced by a third.
3. Strain and reserve.
Download the recipe