Flat Iron Steak with Red Onion Jam
Recipe by RPM Steak
RPM Steak is known for you (you guessed it), its steak program! The chef team at RPM Steak is sharing a recipe for Flat Iron Steak with Red Onion Jam for you to try at home.
Make your reservation for the 7th annual beefsteak at RPM Steak.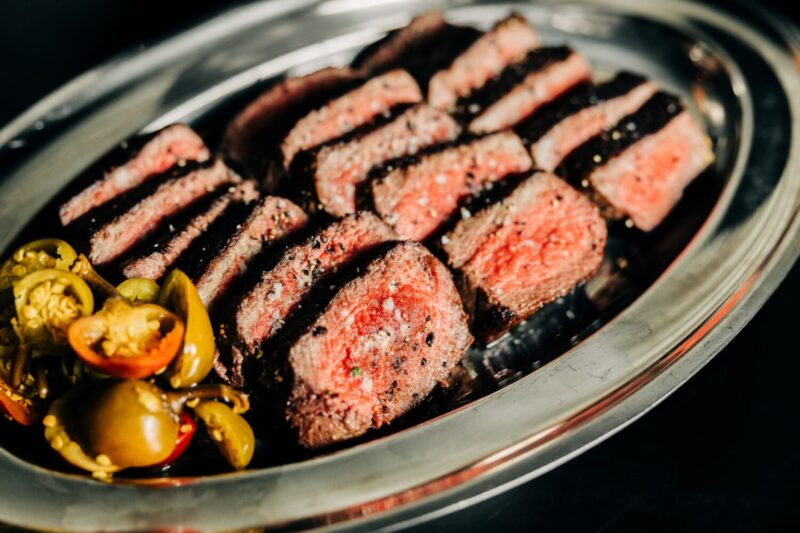 Flat Iron Steak with Red Onion Jam
Not your average steak recipe
Serving Size: 2
Ingredients:
Red Onion Jam Ingredients:
2 Tbsp vegetable oil
2 Cups diced red onion
¾ Cup Red Wine Vinegar
½ Cup Brown Sugar
¼ Cup Water
Kosher Salt to taste

Flat Iron Steak Ingredients:
2 8oz Flat Iron Steak
½ Cup Fried Shallots
2 Tbsp Chives

Method:
Red Onion Jam Method:
1. Heat vegetable oil in a medium skillet over medium heat until shimmering. Add onions and cook until softened and just translucent, 8 to 10 minutes, stirring occasionally
2. Add in red wine vinegar, brown sugar and water. Bring to a boil, then reduce heat low, and let simmer until the liquid has evaporated, stirring occasionally.
3. Season with additional salt to taste. Transfer to a bowl and let cool.

Flat Iron Steak Method:
1. Preheat your broiler on high (500°F). Set an oven rack 6 inches below the heating element.
2. Place the steak on a broiler pan or rack over a baking sheet and season with salt and pepper.
3. Broil for 5 minutes on each side for medium rare
4. Remove from the oven, cover with foil and let stand for about ten minutes.
5. Slice against the grain and place on top of the onion jam. Garnish with fried shallots and chives.
Download the recipe