Fried Pickles
Recipe by Bub City
Bub City shares their Fried Pickles recipe to help you get Game Day ready for hosting this football season.
Need more help hosting or would rather watch the game with us? Checkout our Game Day Grub Guide or view some more of our favorite Game Day recipes.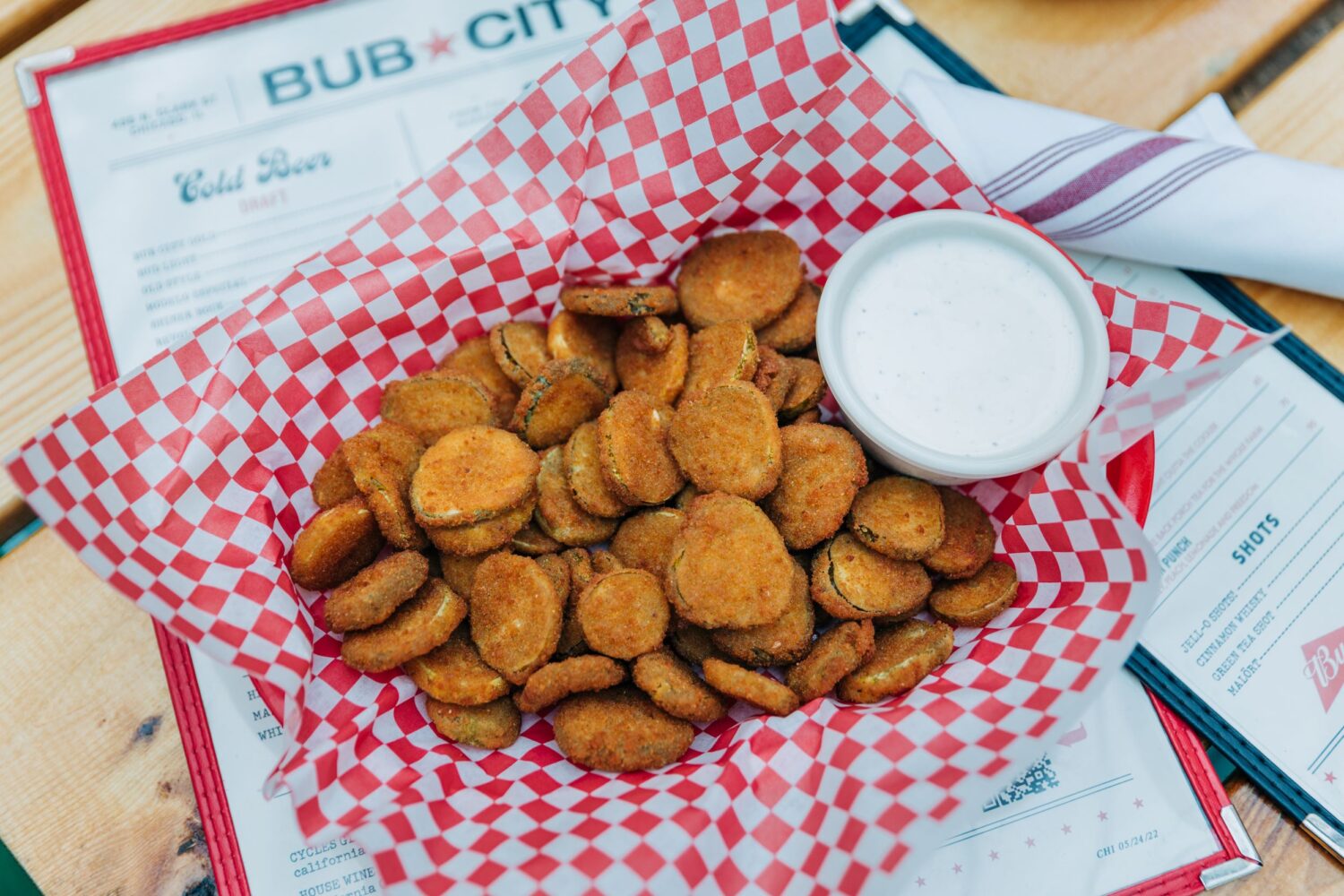 Fried Pickles
Crispy on the outside, crunchy on the inside
Serving Size: 2 - 4
Ingredients:
• 3-4 whole Claussen pickles
• ⅓ cup cornstarch
• ⅓ cup all-purpose flour
• ½ cup soda water
• 2 cups breadcrumbs
• 2 Tbsp. mustard powder
• frying oil such as vegetable or canola oil
• ranch dressing for dipping
Method:
1. Slice the pickles with a mandolin or a knife into ¼ -¾ inch thick, should yield approximately 30 slices, and set aside.
2. Mix flour and cornstarch together in a mixing bowl and reserve 2 tablespoons of the flour mixture.
3. Slowly whisk soda water into the flour mixture to make the batter and set aside.
4. In another bowl, mix the breadcrumbs and mustard powder together and set aside.
5. Take the pickles and sprinkle the reserved 2 tablespoons of flour to absorb moisture and shake off excess flour.
6. Take each pickle and dip it into the flour batter, shake off excess batter then place in the mustard breadcrumbs, toss to coat. Remove and place on a parchment lined tray.
7. Repeat the previous step until all pickle slices are coated and placed on your parchment lined tray in a single layer. Be sure not to stack the pickles.
8. When ready to serve, heat ¾ -1 inch of frying oil in a skillet to 350 degrees and shake off excess breadcrumbs before frying.
9. Gently place pickles in heated oil and fry for 2 minutes. Remove pickles from oil and let sit for a moment on a paper towel to absorb excess oil.
10. Place on a serving dish and serve with a side of ranch dressing.
Download the recipe