Chicken Meatballs
Recipe by Antico Posto
Antico Posto in Oak Brook is known for its classic Italian cuisine and the chef team is sharing one of their signature recipes for the Chicken Meatballs.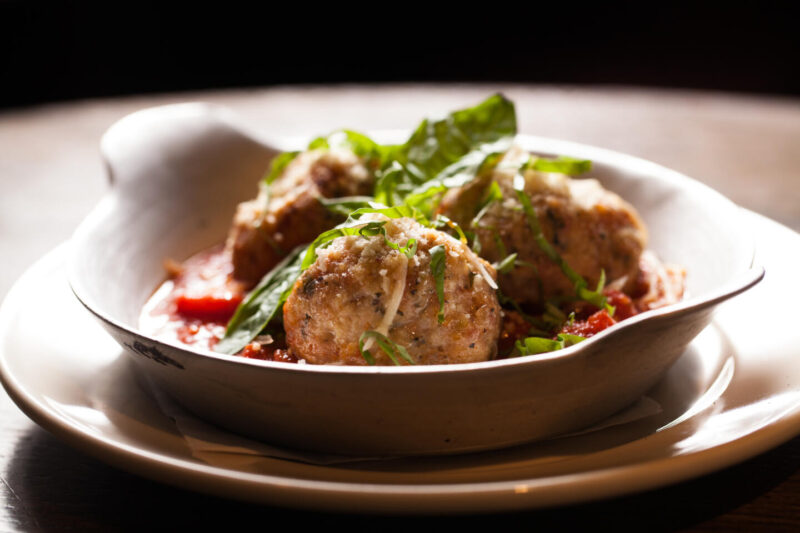 Chicken Meatballs
A classic Italian dish with a twist
Serving Size: 15 Meatballs
Ingredients:
1½ lbs. Ground Chicken
1 Whole Egg XL
6 oz. Heavy Cream
1 Cup Panko Breadcrumbs
¾ Cup Shredded Parmesan Cheese
¼ Cup Grated Grana Padano Cheese
1 tbsp. Chopped Parsley
½ tsp. Kosher Salt
½ tsp. Ground Pepper
1 tsp. Dry Basil
1 tsp. Oregano
1 tsp. Cracked or Ground Fennel Seed
½ tsp. Crushed Red Pepper
1 jar Your Favorite Tomato or Pasta Sauce
Method:
1. In a large bowl or mixer, mix the ground chicken with the egg and heavy cream.
2. In a separate bowl, mix the breadcrumbs, cheeses, herbs and spices.
3. Mix the dry ingredients with the ground chicken mixture and combine well.
4. Cover the bowl with plastic wrap and refrigerate for 1 hour before shaping.
5. Once chilled, use a small scoop to form into approximately 15 2½ oz. balls.
6. Shape them by rolling in the palm of your hands, using ice water if needed to prevent sticking to your hands.
7. Place on a sheet pan and bake at 375°F for 18-20 minutes or until the internal temperature reaches 165°F.
8. Warm up your favorite tomato or pasta sauce, place the meatballs in and enjoy!
Download the recipe