Kale and Artichoke Fondue
Recipe by Wildfire
You've heard of spinach artichoke dip, but you've got to try Wildfire's Kale and Artichoke Fondue. This dip is best served warm and perfect for a winter day or to add to your game day spread.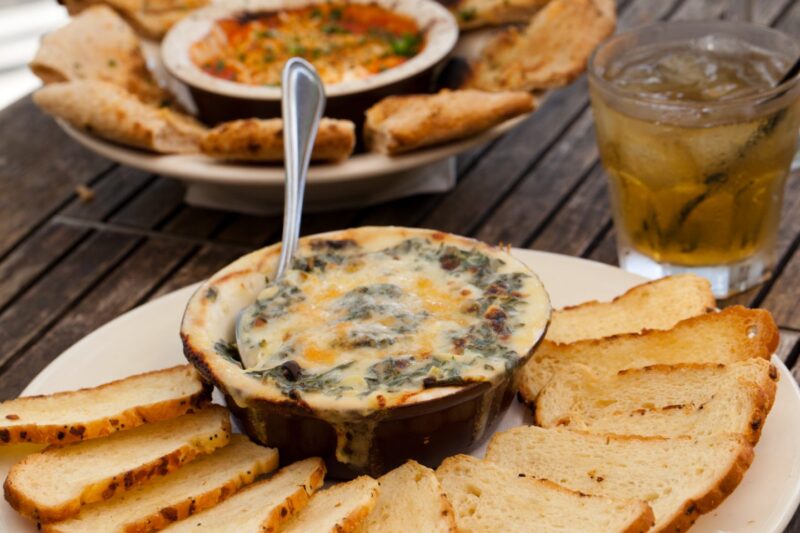 Try this dish at Wildfire- Tysons
Kale and Artichoke Fondue
A delicious dip inspired by Wildfire
Serving Size: 8-10 people
Ingredients:
1 lb Fresh Lacinato Kale leaves, stem free, washed, cut into 1" slices
3 qts Water
1 tablespoon Kosher Salt
1 ½ tablespoon Unsalted butter
1 small sized onion Minced onions
3 cloves minced garlic
1 tsp Kosher Salt
¼ cup Flour
2 ¼ cups Whole milk
1 teaspoon fresh lemon juice
2 teaspoons Worcestershire sauce
2 cups shredded Asiago cheese
1 cup Sour cream
1 cup shredded white cheddar cheese
1 ½ cups Canned artichoke hearts, rough chopped
1 cup Shredded Asiago
1 cup Chips or veggies of your choice for dipping
Method:
1. In a large saucepot, bring water and salt to a boil. Add kale and blanch for 30 seconds. Drain in colander and drop kale in ice water to cool completely for 3-4 minutes.
2. Drain kale again in a colander and squeeze excess water out of kale and rough chop. Set aside.
3. In a medium saucepot, melt butter; add onion and garlic and sauté over medium-high heat for 3-4 minutes.
4. Turn down the heat on pot slightly and add salt, then flour and constantly stir for 3-4 minutes more.
5. Whisk in milk and cook for another 3-4 minutes until thickened.
6. Then add all remaining ingredients and cook for another 2 minutes.
7. Remove from heat, transfer to a small serving bowl, and cool down mixture as quickly as possible.
8.Pre-heat oven to 400 degrees.
9. Transfer fondue mixture into a 2-quart ovenproof casserole dish.
10. Place in hot oven and bake for 15 minutes.
11. Take out and top with Asiago cheese and return to oven for 5-7 more minutes, or until bubbling.
12. Serve with chips or veggies of your choice for dipping and enjoy!
Download the recipe