Fresh Cavatelli with Wild Mushrooms
Recipe by Osteria Via Stato
It's one of the most comforting and savory pasta dishes you've ever tried and we are sharing the recipe! Osteria Via Stato's Executive Chef David Gregorio is teaching us how to make Cavatelli with Wild Mushrooms.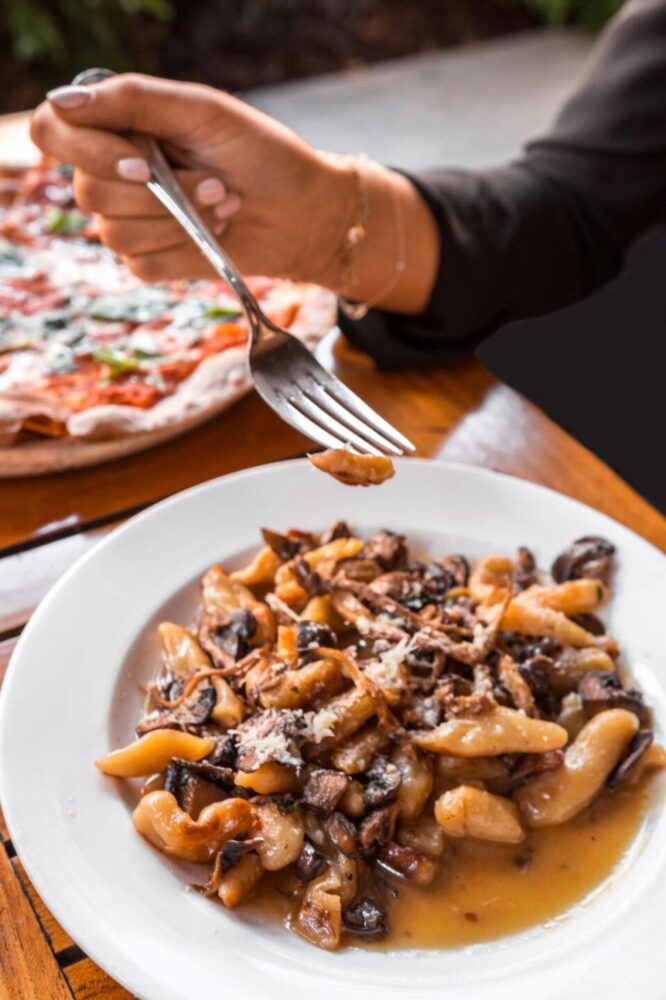 Fresh Cavatelli with Wild Mushrooms
This pasta dish is comfort food in a bowl
Serving Size: 2
Ingredients:
4 cups Fresh Cavatelli (store bought)
1 cup Seasonal Mushrooms, sautéed
2 tbsp Butter
12 oz Parmesan Broth
1 tbsp Basil leaves, torn
1 tbsp Parsley leaves, torn
1/2 tsp minced Garlic
2 tbsp Grated Parmesan
1/2 tbsp Olive Oil

INGREDIENTS FOR PARMESAN BROTH:
1 quart Chicken Stock
1 piece of Parmesan Rinds, about 4 oz
Freshly ground black pepper to taste
Salt to taste
Method:
INSTRUCTIONS FOR PARMESAN BROTH:
1. Simmer chicken stock with parmesan rind, on very low heat for approximately 45 minutes.
2. Season with salt and pepper.

INSTRUCTIONS FOR PASTA:
1. Heat about ½ tablespoon of olive oil on high in a pan and sautéed the mushrooms for 2 minutes. Season with salt and black pepper.
2. Add a tablespoon of butter to the pan and continue sautéing until all water evaporates and mushrooms start to brown. Drain off excess oil.
3. Boil fresh cavatelli in rolling boiling water for approximately 4.5 minutes, until cavatelli floats to the top of the water surface (or follow packet instructions)
4. Melt 1 tbsp of butter in a pan (large enough to fit the cavatelli in a single layer) over high heat.
5. When butter begins to foam, add the cavatelli without overcrowding the pan.
6. Toss cavatelli, allowing it to brown nicely. Approximately 3 - 5 minutes. Add in minced garlic and allow it to cook briefly.
7. Add mushrooms, toss in well. Add parmesan broth, bring back to simmer.
8. Add ½ tbsp of parmesan and herbs. Cook together briefly. Approximately 2 - 3 minutes.
9. Plate and sprinkle with remaining parmesan.
Download the recipe