Lemon Ricotta Pancakes
Recipe by Wildfire
The secret to Wildfire's fluffy Lemon Ricotta Pancakes? Whipped egg whites! If you're located near Wildfire – Tysons stay connected and join the mailing list to be notified when this dish is featured for weekend brunch. In the meantime, try the Oven-Roasted Crab Cakes Benedict, Breakfast Burrito and more, paired with a brunch cocktail or your zero-proof drink of choice!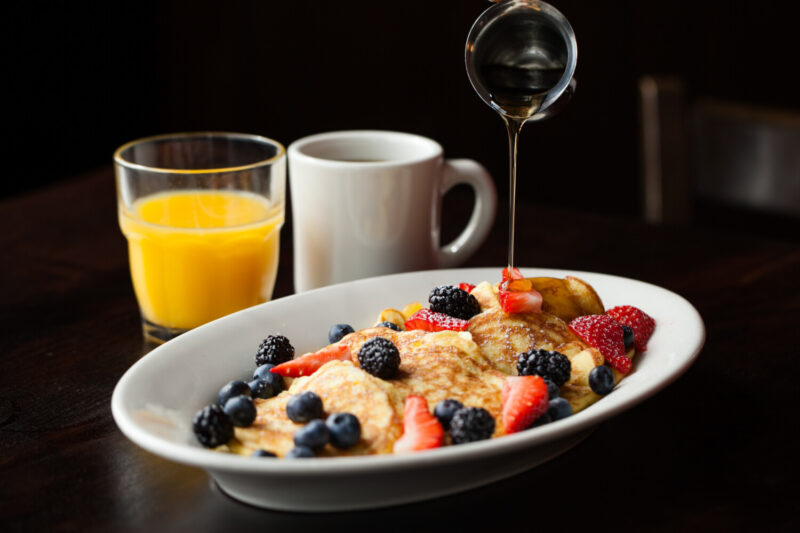 Lemon Ricotta Pancakes
The fluffiest pancake recipe you'll ever make
Serving Size: 4
Ingredients:
6 eggs, whites and yolks separated
1 ½ cups ricotta cheese
4 oz. melted butter
½ cup all-purpose flour
4 Tbsp. sugar
½ tsp. table salt
2 Tbsp. grated lemon zest (about 2 lemons)
1 cup fresh blackberries
powdered sugar for serving
maple syrup for serving
Method:
1. In a stainless steel bowl, whisk together egg yolks, ricotta, and melted butter.
2. Combine flour, sugar, salt and lemon zest then slowly whisk into the above mixture.
3. In a small mixer, whip egg whites to form stiff but not dry peaks.
4. Mix a third of the egg whites into the mixture, then fold in the remaining egg whites.
5. Heat a griddle or a cast iron skillet to medium hot for 5 minutes. Lightly spray with pan spray or grease with butter.
6. Neatly place about ¼ cup of batter on the skillet leaving room for the pancake to spread. Repeat to comfortably fill the pan.
7. Flip each pancake after cooking for approximately 2 minutes on one side and then cook for 2 minutes on the other side. Repeat until all batter is cooked.
8. Serve and top with fresh blackberries, powdered sugar and maple syrup.
Download the recipe