Lobster Mac & Cheese
Recipe by Shaw's Crab House
Some say cheese and seafood never go together, but Shaw's Crab House challenges the naysayers with a recipe for Lobster Mac & Cheese that is guaranteed to change their tune. Start with the best ingredients and freshest lobster you can get your hands on and end with a (mac &) cheesy smile on your face. The best part? Pre-make ramekins for a dinner party and reheat it in the oven just before serving!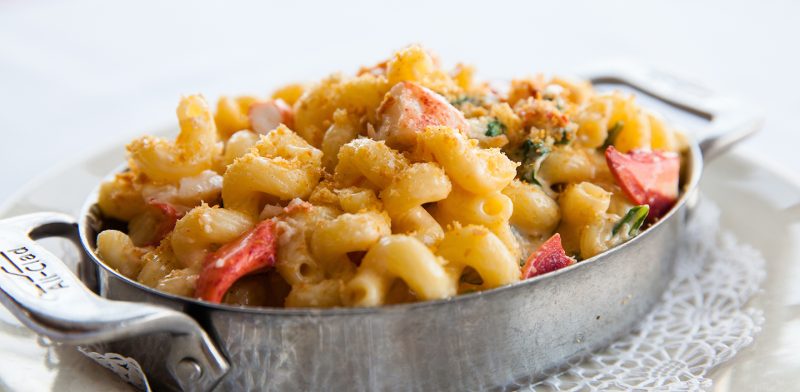 Lobster Mac & Cheese
Just at lobster to this childhood favorite
Serving Size: 6 people
Ingredients:
5 cups heavy cream
4 oz. Merkt's cheddar cheese
4 oz. brie cheese
¼ cup parmesan cheese
¼ teaspoon white pepper
½ teaspoon crushed red pepper
1 teaspoon lobster base
1 teaspoon cornstarch (mixed with 1 teaspoon water)
1 lb. cavatappi pasta
12 oz. cooked Maine lobster meat (claw and knuckle preferred)
Parmesan cheese
Chopped parsley
Toasted panko
Method:
Remove rind from brie cheese. In a large sauce pot combine heavy cream, lobster base, brie cheese, and white and red pepper.
Bring to a boil.
Slowly add Merkt's cheddar cheese, whisking constantly. Return to a simmer and add cornstarch slowly.
Once thickened to coat a spoon, remove from heat.
Add parmesan cheese and blend using hand blender for 1 minute.
Bring large pot to rapid boil and add pasta. Cook until al dente.
Remove from heat and drain pasta.
Toss cooked pasta with cheese sauce and cooked lobster meat.
Portion mac & cheese into dishes. Top each dish with fresh parsley, grated parmesan and toasted breadcrumbs.
Download the recipe