Mama DePandi's Bucatini
Recipe by RPM Italian
It's been a favorite since RPM Italian made its debut in Chicago and Washington D.C. and now we're sharing the recipe with you! Inspired by Giuliana Rancic's mothers recipe, the Mama DePandi's Bucatini is a delicious and comforting pasta dish for you to try at home.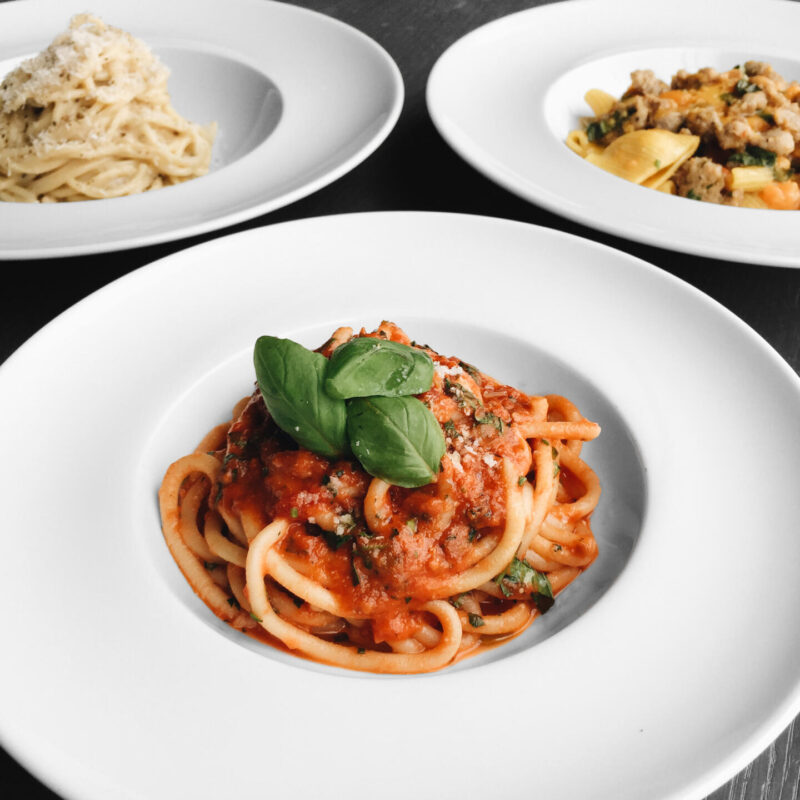 Mama DePandi's Bucatini
A simple, yet delicious pasta recipe
Serving Size: 2 people
Ingredients:
1 can of cucina alta tomatoes (28 oz.)
8 cloves of garlic, diced
2 medium onions, diced
½ cup olive oil
1 tbsp. basil leaves, finely chopped
¼ cup sugar
pinch of salt
8 oz. bucatini
2 tbsp. garlic oil
pinch of chili flakes
1 tbsp. parsley, chopped
1 tbsp. basil, torn
2 tbsp. parmesan, grated
Method:
1. Empty the can of tomatoes into a strainer to drain the juice into a bowl. Reserve the juice. Crush the tomatoes with your hands and set aside.
2. Cut the onion into a small dice. Set aside.
3. Warm the olive oil over medium heat. Add the onions and cook until translucent.
4. Add the diced garlic and crushed tomatoes. Stir to combine.
5. Add the sugar and salt, stir to combine. Cook for 20 minutes until reduced by one-third.
6. Add ½ of the reserved tomato juice. Bring to a boil and cook for an additional 20 minutes.
7. Remove from heat and stir in basil. Set aside.
8. Cook 8 oz. of Bucatini according to the package. Drain and set aside.
9. Heat a pan over medium heat and add 2 tbsp. of garlic oil and a pinch of red chili flakes.
10. Add in ¼ cup of sauce and heat through.
11. Add in pasta and toss to coat.
12. Stir in fresh parsley, torn basil and 1 tbsp. of grated parmesan cheese.
13. Plate and top with 1 tbsp. freshly grated parmesan cheese.
Download the recipe