Market Vegetable Kebab
Recipe by Ema
For a satisfying veggie-forward grill recipe, try Chef CJ Jacobson's (Ema and Aba) version of a kebab! It's simple and you can personalize based on what's in season or by utilizing your favorite vegetables.
Looking for more delicious vegetarian dishes? Check out our guide to the best veggie and vegan dishes at Lettuce restaurants near you.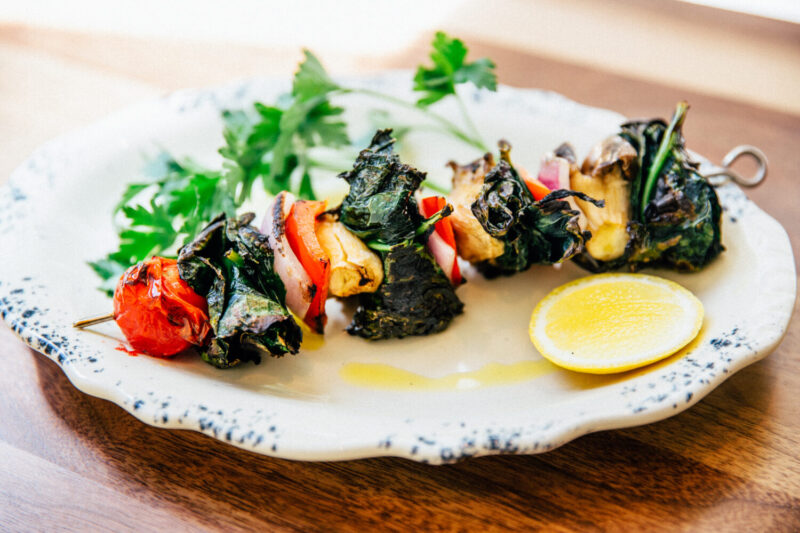 Market Vegetable Kebab
Mix-and-match with your favorite seasonal veggies
Serving Size: 4-5 Skewers
Ingredients:
1 Bunch Tuscan Kale
1 Zucchini (cut into 1-2 inch pieces)
1 Red or White Onion (cut into 1-2 inch pieces)
4-6 Button Mushrooms
2-3 Red Bell Peppers (cut into 1-2 inch pieces)
Lemon Juice to taste
Olive Oil
Salt and Pepper to taste
2-4 Skewers (if using wood, soak in water for a few hours prior to using)
Method:
1. Blanch the kale by cooking it in boiling salted water for 3 minutes.
2. After 3 minutes, plunge the kalg into a bowl filled with ice and water.
3. Drain the kale and lightly squeeze off the excess water.
4. Slice the zucchini into ¼ inch discs.
5. Slice red peppers, 1 inch by 1 inch.
6. Lay the kale out on a cutting board and stack the leaves on top of each other.
7. Starting at the end of the kale, pierce the kale with the skewer so there is still a few inches of the skewer sticking out.
8. Slide on a mushroom, a zucchini, red peppers and then a piece of onion.
9. Repeat with the kale so it "hugs" the vegetables and then repeat with the vegetables.
10. Season the kabobs with olive oil, salt and pepper.
11. Grill for about 3 minutes per side.
12. Squeeze lemon juice on top.
Download the recipe