Guacamole
Recipe by El Segundo Sol
El Segundo Sol serves up some of the freshest, most authentic Mexican food on the Las Vegas Strip, so when they told us they were going to let us in on their secret of what makes their guacamole so freakin' delicious, we were all ears. Aside from always starting with the freshest ingredients, Chef adds oranges to the guac. The oranges brighten it up and further accent some of the familiar flavors that we know and love.
First, the raw oranges, Serrano peppers, onions, garlic, kosher salt and lime juice get muddled up. By muddling them, the pulp and the juices are released. From there, mix in with the avocado, tomatoes, cilantro and mix it all together.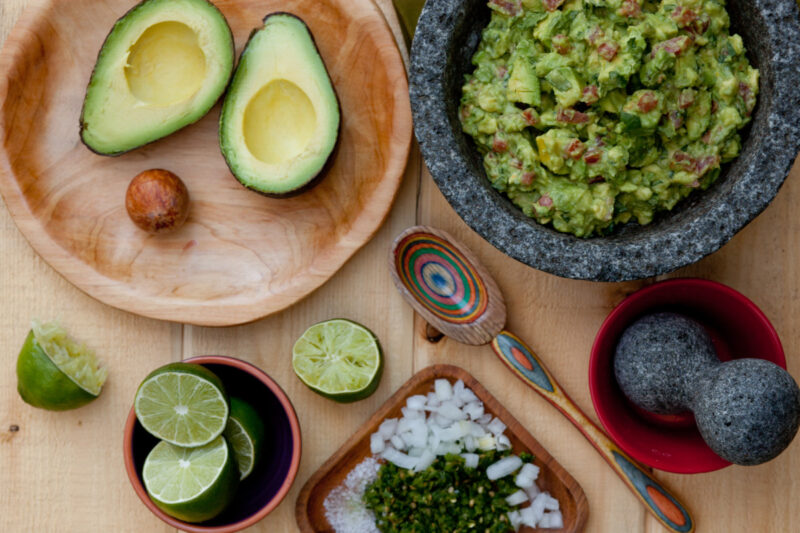 Guacamole
You'll never guess the secret ingredient in this guacamole
Serving Size: 2-3 people
Ingredients:
1 serrano pepper, with seeds
1 tablespoon white onion, diced
2-3 garlic cloves, minced
2 avocados
1 lime, juiced
1 Roma tomato, diced
2 tablespoon cilantro, chopped
kosher salt to taste
3 pieces orange segments (optional)
Method:
1. In a clean bowl, add the serrano pepper, onion, garlic, salt, and lime juice.
2. Using a spoon, mash all of these ingredients together and allow to macerate.
3. Using a serrated knife, slice the avocado in half and remove the pit. Slice the avocado in the peel into large chunks. Scoop the avocado out of the peel and add to the bowl.
4. Stir everything together and mash the ingredients together for 20 seconds or so, it should be fairly chunky.
5. Finish by adding tomatoes, cilantro, and oranges if desired.
Download the recipe