Colossal Lump Crab Cake
Recipe by Joe's Seafood, Prime Steak & Stone Crab
Bring the magic of Joe's Seafood, Prime Steak & Stone Crab's Colossal Lump Crab Cake home! Check out the recipe below to enjoy your own delicious crab bites.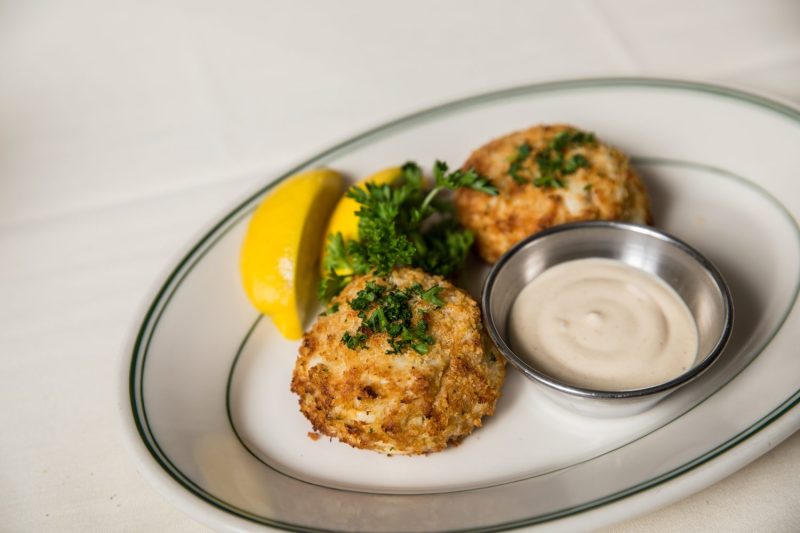 Colossal Lump Crab Cake
This recipe is great for an appetizer or an entree
Serving Size: 8 Crab Cakes
Ingredients:
¾ cup mayonnaise
1 tsp Old Bay seasoning
1 tsp lemon juice
1 ½ tsp lemon zest
¼ tsp white pepper
3 whole eggs
2 tsp parsley (chopped)
3 Tbsp panko bread crumbs
1 lb Jumbo crab meat
1 lb Lump crab meat
2 Tbsp melted butter
Method:
1. Preheat the oven to 450°F.
2. In a mixing bowl, combine all ingredients except crab and mix well.
3. Fold in Jumbo Lump crab meat with a spatula until coated with mayonnaise mixture.
4. Gently fold in Colossal crab meat, being careful not to break into too small of pieces. Should be mixed until colossal pieces are half their size.
5. Gently portion into 4 oz. balls, place on a sheet pan with parchment and press down slightly. They should still have a rough jagged appearance on top.
6. Place on a lined half sheet pan.
7. Lightly sprinkle each crab cake with panko (about ½ tsp) and drizzle butter equally over all crab cakes.
8. Place in 450°F and bake for 7 - 9 minutes.
Download the recipe