Vegetarian Mushroom Barley Soup
Recipe by Wildfire
Looking for a quick and easy one pot recipe to try at home? Wildfire's Executive Chef Joe Decker is giving us his recipe for making the best Mushroom Barley Soup! Bonus: the soup is completely vegetarian!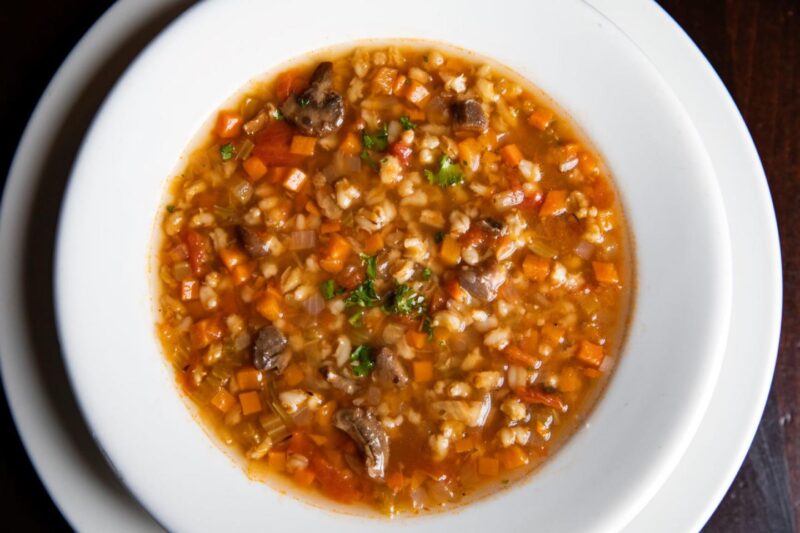 Vegetarian Mushroom Barley Soup
This vegetarian soup is the perfect dish to try on a cold night
Serving Size: 6 - 8 people
Ingredients:
1 oz. dry porcini mushrooms
1 cup hot water
¼ cup + 2 Tbsp olive oil
2 cups diced yellow onion (1 large)
2 cups diced carrots
2 cups diced celery
1 Tbsp chopped garlic
1Tbsp fresh oregano
1 Tbsp fresh thyme
1 cup barley
8 oz. sliced cremini mushrooms
8 oz sliced portobello mushrooms
2 14 ½ oz. cans fire roasted diced tomatoes
10 cups vegetable stock
1 tsp kosher salt
1 tsp fresh ground pepper
Method:
1. Soak porcini mushrooms in hot water for 30 minutes, until softened.
2. Heat olive oil in a large sauce pan at medium heat. Add onion, carrots, celery, garlic, oregano and thyme and sauté until tender about 10-12 minutes
3. Add barley and continue to sauté for 5 minutes.
4. Add soaked porcini mushrooms and the soaking water. Continue cooking for 5 minutes.
5. Add tomatoes and cook for 5-8 minutes.
6. Add stock and simmer for 30 minutes. Season with salt and pepper to desired taste.
7. Chef suggests to grate parmesan cheese on top and serve with a slice of crusty sourdough bread.
Download the recipe