Roast Turkey
Recipe by RPM Steak
Impress your family this Thanksgiving by taking a page out of RPM Steak's book with this shockingly simple turkey recipe.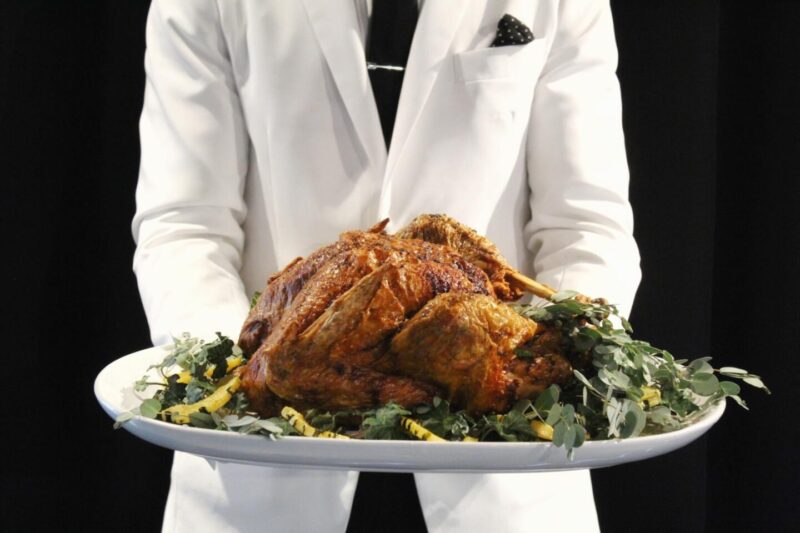 Roast Turkey
Simple is best when choosing seasoning for turkey: butter, salt and pepper; add in a compound butter like garlic-sage if you're feeling adventurous.
Serving Size: 8-10 people
Ingredients:
One 12–15-lb. whole turkey, brined (optional) and patted dry
½ cup (1 stick) unsalted butter, at room temperature
4 tablespoons kosher salt
2 tablespoons fresh ground black pepper
½ cup garlic-sage butter, optional (see note)
Method:
1. Preheat oven to 450°F. Fit a large, heavy roasting pan with a roasting rack; pour in 4 cups water.

2. Thoroughly pat dry the turkey with paper towels. Rub the bird all over with softened butter; season with salt and pepper. Don't forget to season the inside of the bird too.

3. If using garlic-sage butter, place pats of the compound butter under the skin all around the bird.

4. Roast the turkey breast side up, uncovered, for 30 minutes. Reduce oven temp to 325°F and continue cooking the turkey until it reaches an internal temperature of 165°F. (The juices should run clear when the thermometer is removed.)

5. Let the turkey rest at least 20 minutes before carving.

Note: To make the garlic-sage butter, combine 1 stick unsalted, room temperature butter with 4 cloves roasted garlic and 1 Tbsp. finely chopped fresh sage until smooth. Shape into a log, cover in plastic wrap and chill until ready to use. 
Download the recipe