Roasted Alaskan Halibut
Recipe by The Oakville Grill & Cellar
Chef Max Robbins from The Oakville Grill & Cellar share's his Roasted Alaskan Halibut recipe inspired by the cuisine found in the Napa Valley. The dish combines the slightly sweet and mild taste of the halibut with a velvety Romesco sauce. The accompanying salad adds a delightful crunch and a burst of citrusy freshness, complementing the halibut and Romesco beautifully.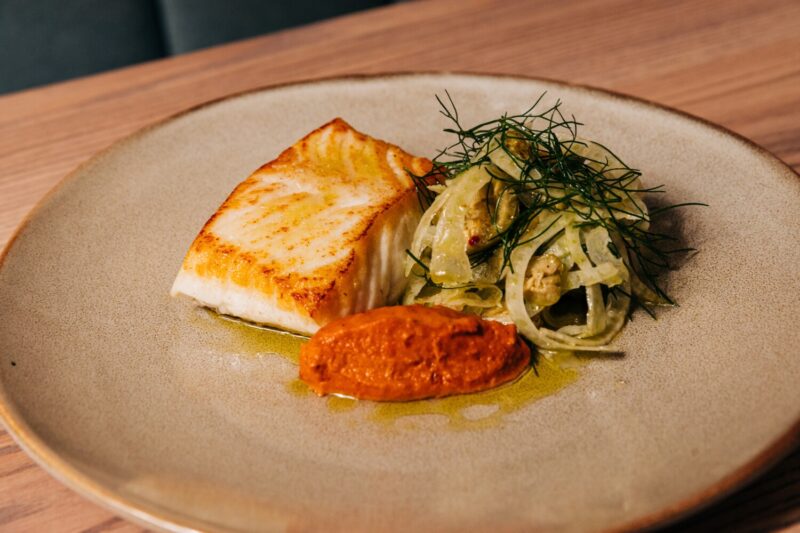 Roasted Alaskan Halibut
A fish dish perfect for your next dinner party
Serving Size: 4
Ingredients:
ROASTED ALASKAN HALIBUT INGREDIENTS
• 4 portions halibut, 7 oz. filets
• kosher salt to taste
• 1 cup Romesco - see recipe below
• ¼ cup extra virgin olive oil
• 1 Tbsp sherry vinegar
• 1 lemon, cut into fourths
• kosher salt to taste
• black pepper to taste
• 2 cups fennel salad - see recipe below

ROMESCO INGREDIENTS
• 1 ½ cups roasted marinated peppers
• ⅓ cup Marcona almonds
• 1 ½ Tbsp tomato paste
• 2 tsp smoked paprika
• 2 Tbsp garlic, chopped
• 2 tsp sherry vinegar
• 1 tsp sugar
• 2 tsp water
• ¾ tsp kosher salt
• ¼ cup extra virgin olive oil

FENNEL SALAD INGREDIENTS
• ¾ cups fennel, thinly shaved
• ¼ cup marinated Gordal olives, torn
• 4 ea. basil leaves
• 8 ea. parsley leaves
• ¼ tsp Maldon salt
• 1 Tbsp lemon juice, freshly squeezed
Method:
ROMESCO METHOD
1. In a pan, sauté the peppers in half the olive oil for 10 - 15 minutes, until charred and soft
2. Add the tomato paste and cook on low for 5 minutes.
3. Add the smoked paprika, sugar, garlic paste, sherry vinegar and sugar and cook on low for an additional 5 minutes.
4. Fold in Marcona almonds and warm through.
5. Blend until smooth.
6. Chill and reserve until ready to use, can be kept refrigerated in a sealed container for up to 5 days.

FENNEL SALAD METHOD
1. Add all ingredients into a bowl and mix gently.
2. Reserve for serving.

ROASTED ALASKAN HALIBUT METHOD
1. Preheat oven to 350 F.
2. Pat dry halibut filets and season with salt and pepper.
3. In an oven safe pan, sauté each halibut portion on one side until golden (this will be the serving presentation side). Flip and finish in the oven until just done, about 8 - 12 minutes total cooking time.
4. Meanwhile, heat Romesco lightly in a saucepan.
5. For plating, on each plate lay ¼ cup of the Romesco sauce, place the halibut on top, and garnish with ½ cup of the fennel salad per plate next to the filet.
6. Finish each plated portion with a drizzle of extra virgin olive oil and sherry vinegar.
Download the recipe