Roasted Brussels Sprouts with Toasted Hazelnuts
Recipe by Wildfire
Wildfire's classic roasted Brussels sprouts is the perfect dish for any dinner table this fall. Plus a little green is always required and what better way to spice up Brussels sprouts than with hazelnuts.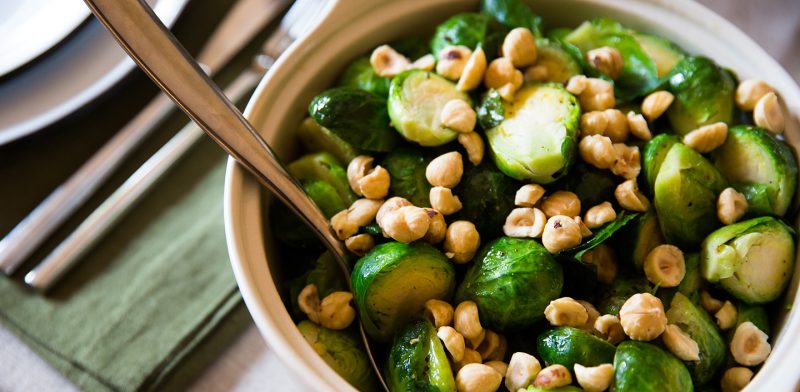 Roasted Brussels Sprouts with Toasted Hazelnuts
Quick, easy and you're likely to have the majority of these ingredients in your pantry already.
Serving Size: 8
Ingredients:
2 pounds Brussels sprouts
1 tablespoon kosher salt
2 quarts water
8 ounces hazelnuts, blanched, roasted & roughly chopped
2 tablespoons extra virgin olive oil
¼ teaspoon fresh ground black pepper
¼ cup chicken or vegetable stock
½ stick unsalted butter
Method:
1. Remove excess part of stem and split the brussels sprouts in half.
2. Blanch in boiling salted water until tender, not over cooked.
3. Quickly drain and drop into ice water to prevent further cooking.
4. When cool, drain.
5. Toss blanched brussels sprouts into a stainless steel bowl with extra virgin olive oil, salt and pepper and
then place on a sheet pan and roast in a 400° oven for 20 minutes.
6. Drizzle stock over roasted brussels sprouts and return to the oven for 2 minutes.
7. Place butter in a small sauce pan and cook on moderate heat till golden brown.
8. Place on a serving platter and drizzle brown butter over brussels sprouts and top with roasted
hazelnuts, then serve.
Download the recipe