Roasted Chicken
Recipe by Summer House Santa Monica
Summer House Santa Monica's Chef Ben Goodnick is sharing his recipe to creating the whole roasted chicken at home. This dish is the perfect centerpiece for any kitchen table.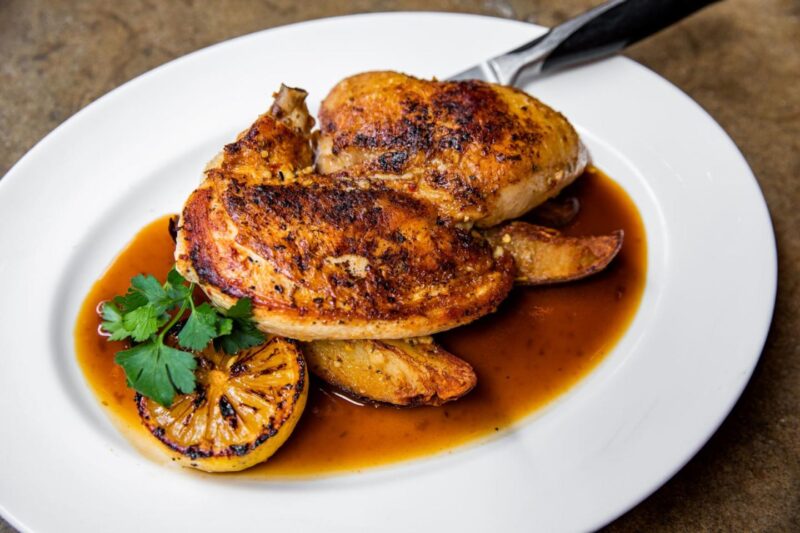 Roasted Chicken
Here's how to make the perfect roasted chicken
Serving Size: 3-4 people
Ingredients:
1 Whole Chicken (approximately 4 pounds)
3 Tbsp Butter (room temperature)
1 tsp Fresh Thyme (finely chopped) *
1 tsp Brown Sugar
2 Large Yellow Onions (peeled and quartered)
Salt and Ground Black Pepper to taste
*substitute: ½ tsp Dry Thyme or Italian Seasoning
Method:
1. Set the oven at 425°F.
2. In a small bowl, mix together butter, thyme, brown sugar, salt and pepper.
3. Place the onions in a 9-by-13-inch baking dish, then place the chicken, breast side up, in the center.
4. Using your fingers, gently separate the skin from the breast, then rub half the butter mixture between the skin and breast. Carefully push some of the butter between the skin and meat of the legs, as well.
5. Dot the rest of the butter over the onions, then sprinkle the chicken and onions with salt and pepper.
6. Roast the chicken for 50-60 minutes, or until a meat thermometer inserted into the thickest part of the thigh registers 165°F.
7. Let the chicken rest for 10 minutes before carving and serving.
8. Slice the chicken onto a platter and serve it with the vegetables.
Download the recipe