Corn Chow Chow
Recipe by Summer House Santa Monica
Summer House Chef Ben Goodnick is giving us ideas on how to preserve your summer stash. Grab your Mason jars and read on to learn how to pickle your fruits and veggies at home.
Chow chow comes in many varieties, from all-cabbage to a mix of different vegetables. This version uses sweet corn at its peak and makes a great accompaniment to grilled meats like pork chops or barbecue. Chef Ben says you could also use this recipe for zucchini, squash, or green tomatoes instead of corn, so it's a great one to keep on file for whenever you need to use up some late-summer produce.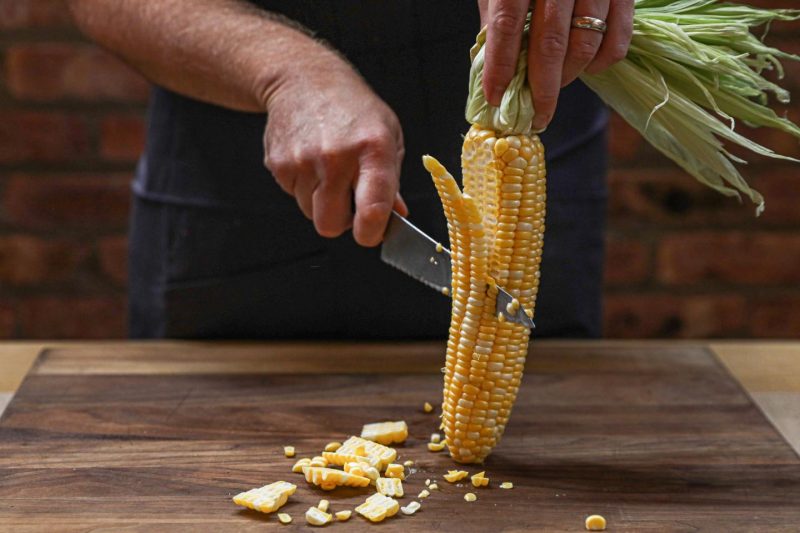 Corn Chow Chow
How to preserve your summer corn
Serving Size: 2 pints
Ingredients:
1 cup white vinegar
3/4 cup granulated sugar
2 tablespoons salt
1 tablespoon pickling spice
1 teaspoon ground turmeric
1 teaspoon crushed red pepper flakes
2 cups sweet corn kernels, removed from the cob
1 cup red or green bell pepper, diced
1/2 cup yellow onion, diced
Method:
1. Dice red (or green) bell peppers and onions into pieces about the size of the kernels of corn.
2. Mix the vinegar, sugar, salt, pickling spice, turmeric and red pepper flakes in a large pot over high heat. Bring brine to a boil, reduce heat and simmer for 5 minutes, stirring occasionally to make sure the sugar is fully dissolved. Remove from heat and completely chill the brine in the refrigerator.
3. Mix corn, peppers and onions and divide into 4 half-pint Mason jars and pour brine over to fill.
4. Put on lids and refrigerate. They will be ready to enjoy in 5 days and will last in the fridge for up to 3 months.
Download the recipe