Pumpkin Pie
Recipe by Shaw's Crab House
End Thanksgiving dinner on a sweet note with this iconic pumpkin pie from Shaw's Crab House. Featuring a buttery homemade crust with a classic pumpkin filling, this is sure to be a hit around the dinner table.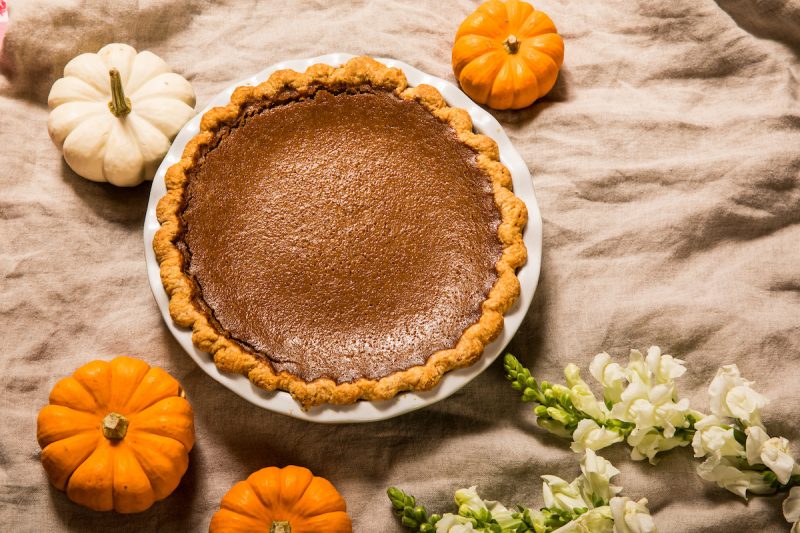 Pumpkin Pie
A classic pumpkin pie recipe from Shaw's Crab House
Serving Size: 2 pies
Ingredients:
INGREDIENTS FOR CRUST:
2 ½ cups all-purpose flour
1 teaspoon salt
1 teaspoon sugar
1 cup (2 sticks) unsalted butter, cold & cubed
1 cup ice water

INGREDIENTS FOR FILLING:
5 whole eggs
2 cups light brown sugar
6 ounces light corn syrup
4 cups heavy whipping cream
32 ounces roasted pumpkin puree or canned pumpkin
1 teaspoon ground cinnamon
½ tablespoon pumpkin pie spice
½ teaspoon powdered ginger
2 teaspoons pure vanilla extract
Pinch of iodized salt
Method:
METHOD FOR CRUST:
1. In the bowl of a food processor, combine flour, salt, and sugar. Add butter, and process until the mixture resembles coarse meal, 8 to 10 seconds.
2. With machine running, add ice water in a slow, steady stream through the feed tube. Pulse until the dough holds together without being wet or sticky, be careful not to process more than 30 seconds. To test, squeeze a small amount together: If it is crumbly, add more ice water, 1 tablespoon at a time.
3. Divide dough into two equal balls, Flatten each ball into a disc and wrap in plastic. Transfer to the refrigerator and chill at least one hour.
4. Roll dough and press into a 9 in. pie pans. Crimp edges.

METHOD FOR FILLING & ASSEMBLY:
1. Combine all ingredients and blend with a hand mixer until well combined.
2. Pour into 2 prepared 9-inch pie shells.
3. Bake at 350° F for 30-35 minutes or until the filling sets.
4. Serve at room temperature with fresh sweetened whipped cream and chopped pecans.
Download the recipe