Cacio e Pepe
Recipe by Stella Barra Pizzeria & Wine Bar
Chef Ben Goodnick is sharing a recipe for the most craveable, classic pasta dish: Cacio e Pepe.
"Cacio e Pepe is a simple pasta dish that comes from some of the most classic food traditions in Rome and the surrounding regions in Italy. Simplicity is key, but ingredients matter. For centuries, Romans have used dry pasta and I suggest you do the same: I prefer Pasta Mancini from the Le Marche region. Traditionally the dish would be made with only Pecorino Romano but I like to add some Parmigiano Reggiano as well for complexity," says Chef Ben.
Pro tip: One critical ingredient is the starchy pasta water. Added back into the pot with the pasta, cheese and pepper, it all forms the sauce together. Chef Ben suggests putting a measuring cup in the colander before cooking — that way you won't forget.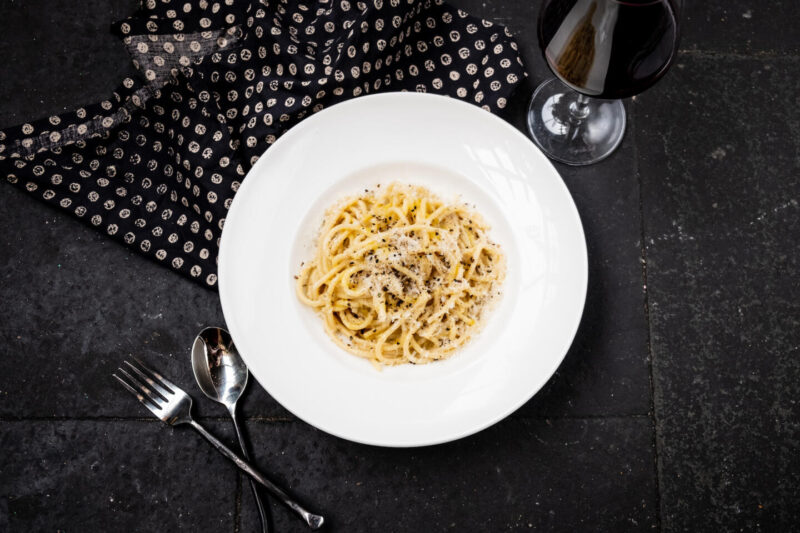 Cacio e Pepe
An easy weeknight recipe idea
Serving Size: 4
Ingredients:
¾ lb long dry pasta (like spaghetti or bucatini)
water and kosher salt as needed
¾ cup finely grated Pecorino Romano, plus more for garnish
¼ cup finely grated Parmigiano Reggiano, plus more for garnish
2 tablespoons freshly ground black pepper, plus more for garnish
½ to 1 cup pasta water, reserved
3 tablespoons extra virgin olive oil
Method:
1. Cook the pasta according to package directions in ample boiling salted water.
2. Drain the pasta and reserve 1 cup of the cooking water.
3. Add the pasta back to the pot and place over low heat.
4. Add the Pecorino Romano and Parmigiano Reggiano cheeses, the ground pepper, and half of the pasta water.
5. Gently stir with a wooden spoon until the cheese is melted and the pasta is coated with a silky sauce. Add more water as needed. The sauce should cling tightly to the noodles and not pool in the bottom of the pot.
6. Divide among four warm bowls and drizzle with olive oil.
7. Garnish with additional grated cheese and freshly ground pepper to your taste.
Download the recipe