Steamed Artichoke with shaved vegetables & lemon-Dijon vinaigrette
Recipe by Mon Ami Gabi
Warmer days bring about fresh seasonal vegetables. One that always comes to mind is the artichoke which is in peak season March to June, and again from September to October, though if you live in Illinois July and August are its prime months. Sometimes artichokes can seem intimidating, even unapproachable, but they will always be delicious. To help you out, we've broken down exactly how to enjoy this veggie at its most pure – when it's steamed.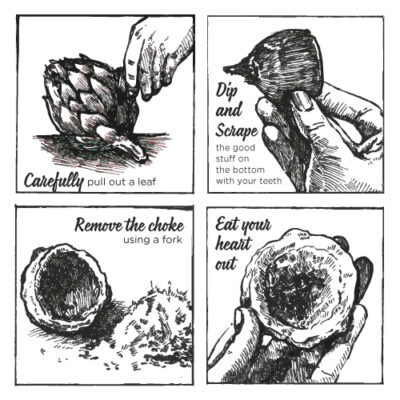 Now that artichokes are back in season, why don't you try your hand at making them at home! You can also enjoyed Steamed Artichokes with shaved vegetables and lemon-Dijon vinaigrette at Mon Ami Gabi – Bethesda.
Steamed Artichoke with shaved vegetables & lemon-Dijon vinaigrette
A simple preparation that highlights the freshness of the artichokes
Serving Size: 4 servings
Ingredients:
INGREDIENTS FOR STEAMED ARTICHOKES
• 4 fresh, large artichokes
• 4 fresh lemons, cut outer wedges and use insides for juice
• 1 bay leaf
• ¼ bunch parsley
• 1 sprig fresh thyme
• 2 cloves garlic crushed
• 1 tbsp. black pepper, cracked

INGREDIENTS FOR LEMON-DIJON VINAIGRETTE
• 1 cup fresh lemon juice
• 2 cups olive oil
• 2 tbsp. Dijon mustard
• 1 tsp. garlic, finely minced
• 1 tsp. salt
• 1 tsp. black pepper, freshly ground

INGREDIENTS FOR STEAMED ARTICHOKE WITH SHAVED VEGETABLES & LEMON-DIJON VINAIGRETTE
• 4 large steamed artichokes
• 4 peeled and shaved carrots
• 1 watermelon radish, peeled and thinly sliced
• 1 piece of fennel, thinly sliced
• 20 sprigs fennel fronds
• 2 tbsp. micro basil
• 12 parsley sprigs, rinsed
• 20 olives (assorted mix with pits)
• 8 oz. lemon-dijon vinaigrette
• 4 lemon wedges
• 1 pinch of flaky salt
Method:
METHOD FOR STEAMED ARTICHOKES
1. Bring a large pot to boil on top of the stove with a perforated insert and lid.
2. Gently trim the top and bottom of the artichokes.
3. Squeeze with fresh lemon juice.
4. Place aromatics in the boiling water.
5. Place artichokes in the perforated pan, top side facing downwards.
6. Cover and allow to cook until tender. Approximately 45 minutes.
7. Snip the ends of each leaf with scissors.
8. Allow to cool and wrap individually with plastic wrap and chill.
9. Store artichokes bottoms down and gently to maintain shape

METHOD FOR LEMON-DIJON VINAIGRETTE
1. Finely mince garlic.
2. Start with dijon mustard in a stainless steel. Whisk in lemon juice and slowly add olive oil.
3. Season with salt and ground black pepper.

METHOD FOR STEAMED ARTICHOKE WITH
SHAVED VEGETABLES & LEMON-DIJON VINAIGRETTE
1. Peel and shave carrots, watermelon radish and fennel and mix in bowl.
2. Trim artichokes on top and bottom. All leaves must be snipped at top with scissors.
3. Place artichokes on plate, steady the bottom and gently open the leaves.
4. Sprinkle with shaved vegetables, and herbs.
5. Sprinkle olives.
6. Pour 2 oz. lemon-djion vinaigrette onto each artichoke.
7. Sprinkle with flaky salt.
Download the recipe