Strawberry Rhubarb Streusel Pie
Recipe by Wildfire
Chef Partner Joe Decker from Wildfire shares his recipe for Strawberry Rhubarb Streusel Pie, a delicious way to celebrate strawberry season! You can easily make this year-round as well, just be sure to freeze some rhubarb while it's available. Looking for more pies? Checkout our pies to-go guide.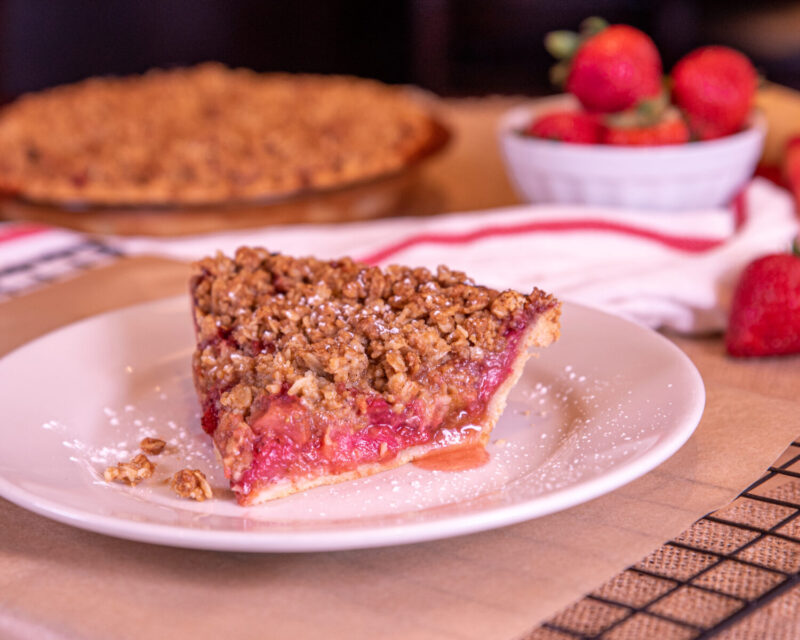 This pie is currently on Wildfire's menu through the end of June, stop by and try a slice.
Strawberry Rhubarb Streusel Pie
A delicious way to use fresh strawberries
Serving Size: 8 servings
Ingredients:
STRAWBERRY RHUBARB STREUSEL PIE INGREDIENTS
• 1 9-inch pie shell, store bought or homemade
• 2 ¾ cups rhubarb cut into ½ inch slices
• 2 cups strawberries hulled and cut into quarters
• 1 cup granulated sugar
• 2 Tbsp Kraft tapioca
• 1 Tbsp all-purpose flour
• ½ tsp lemon zest
• ½ tsp lemon juice
• ½ tsp ground cinnamon
• 1 tsp vanilla bean paste (or equal amount vanilla extract)
• 2 Tbsp butter, cut into small cubes
• Oat Streusel Topping

OAT STREUSEL TOPPING INGREDIENTS
• 2 cups old fashioned rolled oats
• ⅔ cup brown sugar
• ⅓ cup granulated sugar
• ½ tsp kosher salt
• 1 ¼ sticks unsalted butter, at room temperature cut into ½ inch cubes
Method:
METHOD FOR PIE
1. Preheat oven to 350° F.
2. Wash rhubarb and strawberries well. Process as directed.
3. In a stainless steel bowl, fold together rhubarb, strawberries, sugar, tapioca, flour, lemon
juice, lemon zest, cinnamon, vanilla bean paste and butter until combined.
4. Let the mixture rest for 5 minutes in the bowl, then fold again and neatly fill the pie shell.
5. Neatly top pie with all of the oat streusel topping.
6. Place the pie pan on a parchment lined sheet pan and bake the pie for 65 minutes. Cool
at room temperature.
7. Once cool, serve with whipped cream or vanilla ice cream.

METHOD FOR STREUSEL TOPPING
1. Place 1 cup of the oats in a food processor and blend into a fine powder. Then transfer
to a medium stainless steel bowl.
2. Add the remaining 1 cup of oats, brown sugar, white sugar and salt to the bowl and
combine well.
3. Mix butter into oatmeal mixture until crumbly.
Download the recipe