Rigatoni alla Vodka
Recipe by Summer House Santa Monica
Chef Ben Goodnick brightens up this staple on Summer House Santa Monica's California-inspired menu, Rigatoni alla Vodka, with frozen peas. It's a crowd-pleasing classic equally suited for a casual weeknight in or your next dinner party with friends.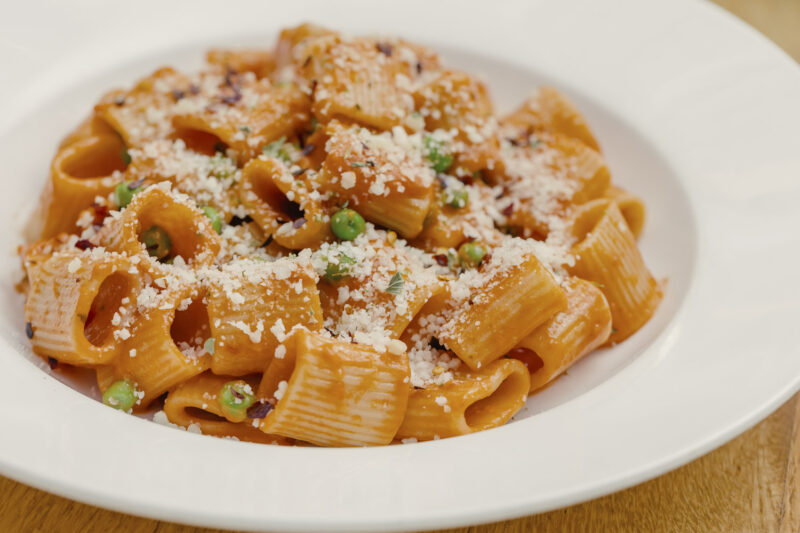 Rigatoni alla Vodka
A delectable take on a hearty classic
Serving Size: 6
Ingredients:
PASTA INGREDIENTS
1 lb. dry rigatoni
2 cups frozen peas
Salt to taste
Parmesan cheese to taste

VODKA SAUCE INGREDIENTS
3 Tbsp. olive oil
1 small onion, minced
3 cloves garlic, chopped
1 tsp. hot crushed red pepper flakes
1 tsp. dry oregano
2 Tbsp. vodka
1 28 oz. can crushed tomatoes
2 cups heavy cream
3 Tbsp. grated Parmesan cheese
2 Tbsp. butter
2 Tbsp. chopped fresh basil
Salt to taste

Method:
VODKA SAUCE METHOD
1. Place a heavy bottomed pot over medium heat. Add the olive oil.
2. When the olive oil is hot, add the onion and sauté for 7 minutes, stirring until soft and just turning golden.
3. Add the garlic, hot crushed red pepper flakes and oregano. Stir until aromatic, about 1 minute.
4. Turn off the heat and add the vodka. Stir until the sizzling stops. Turn the heat back on and cook until the pan is almost dry.
5. Add tomatoes, bring to a boil, reduce heat to a simmer and cook, stirring often for 30 minutes.
6. Add heavy cream and return to a boil.
7. Add Parmesan and basil and purée with an immersion blender, or, allow sauce to cool for 10 minutes, then process in a blender or food processor.
8. Adjust seasoning to taste.

PASTA METHOD
1. While sauce cooks, boil salted water according to package directions. Add pasta and cook until al dente, approximately 8-10 minutes.
2. Drain pasta and reserve 1 cup of the pasta water.
3. Return the pasta and reserved water to the pot. Add the sauce and set heat to medium-high. Stir until sauce is tacky and pasta is cooked completely. Stir in peas until they are thawed and hot.
4. Place into a large serving dish and sprinkle with Parmesan.

Download the recipe