Tamales with Pork
Recipe by Chef Ozzie Ocegueda
Chef Ozzie Ocegueda was born in Jalisco, Mexico, where large family gatherings are a tradition. Two of his families' favorite foods to make are Pozole (a traditional soup or stew) and Tamales. Pozole is such a delight to both make and enjoy, it's often described as Mexican Ramen because it is a rich pork broth, shredded pork, hominy with all the vegetables on top, plus a squeeze of lime for a bit of acidity.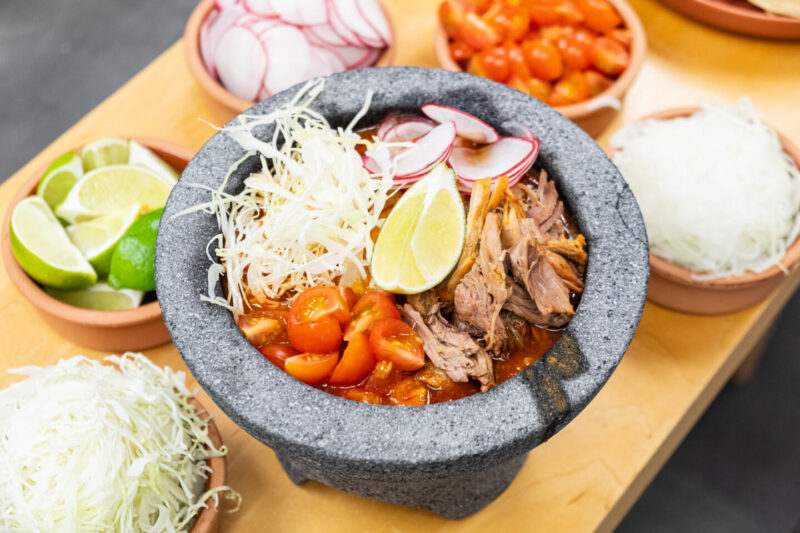 Making tamales is a team effort. Everybody comes together to build their favorite tamales, then they all gather to enjoy them right out of the pot. Tamales are a small steamed cakes of dough that is made from corn flour. You can stuff them with pork or other ingredients to add flavor.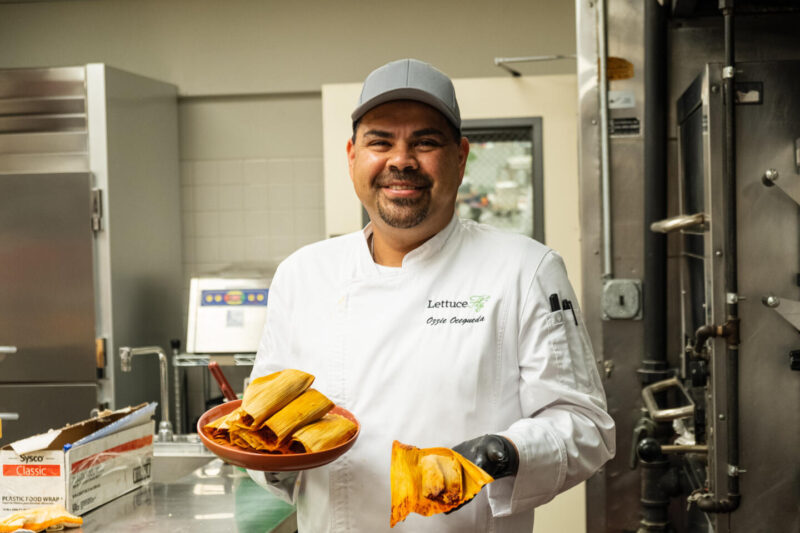 Tamales with Pork
Chef Ozzie Ocegueda family recipe in honor of Hispanic Heritage Month
Serving Size: 10-12 pieces
Ingredients:
INGREDIENTS FOR THE MEAT:
1 lb Pork Butt
½ Yellow Onion, cut in half
1 Garlic Clove, whole
5 Guajillos Chile
Kosher Salt to taste

INGREDIENTS FOR THE MASA:
2 lbs Dry Corn Flour (Chef recommends Maseca brand)
1 cup Pork Broth (see method to make the broth)
½ tsp Baking Powder
½ tsp Kosher Salt
¼ cup Lard (soft)

INGREDIENTS FOR THE TAMALES:
12-15 dry Corn husks, (Chef recommends La Costeña brand)
2 Tbsp of masa for each corn husk
2 Tbsp shredded pork meat for each corn husk
2 Tbsp mole for each corn husk
Method:
METHOD FOR MEAT:
1. Cut the pork into 2 inch cubes.
2. Place all ingredients in a pot and fill with water.
3. Cook for 30 - 45 minutes or until the meat is tender at medium heat, leave it uncovered.
4. Remove all ingredients from water which is now your pork broth.
5. Place the pork on a sheet pan to cool and shred when possible.
6. Take the remaining ingredients (chiles, onion and garlic) and place in a blender and add ½ cup of the pork broth and blend.
7. When fully blended, strain and set aside. This is your mole. Season to taste with salt.

METHOD FOR MASA:
1. Place all ingredients in a mixer and mix for about 4 minutes, fully blend to achieve a smooth, doughy substance
2. Remove from the mixer and set aside.

METHOD FOR TAMALES:
1. Place the corn husks in warm water for 15 minutes to rehydrate and soften.
2. Take the wet corn husks and dry off excess water. On the smoother side of the husk, spread 2 Tbsp masa in the middle from top to bottom (the wider end of the husk to about ½ of the way towards the narrow end).
3. Place the 2 Tbsp of meat on top of the masa and then the 2 Tbsp of mole.
4. Fold in the left and ride sides of the tamale and then fold the bottom tip up (almost in half) to fully close the tamale.
5. Once the tamales are wrapped, carefully stack them in a steaming pot with the fold facing the bottom of the pot.
6. Steam for 30 minutes, over medium heat, then remove from heat and let them rest for 15 minutes.
7. Serve and enjoy!
Download the recipe