Togarashi Chicken Nuggets
Recipe by Sushi-san
Sushi-san's Master Sushi Chef Kaze Chan is sharing a playful riff on a childhood favorite, chicken nuggets. The Togarashi Chicken Nuggets are ultra crispy and juicy with traditional Japanese flavors and the perfect amount of acidity and spice.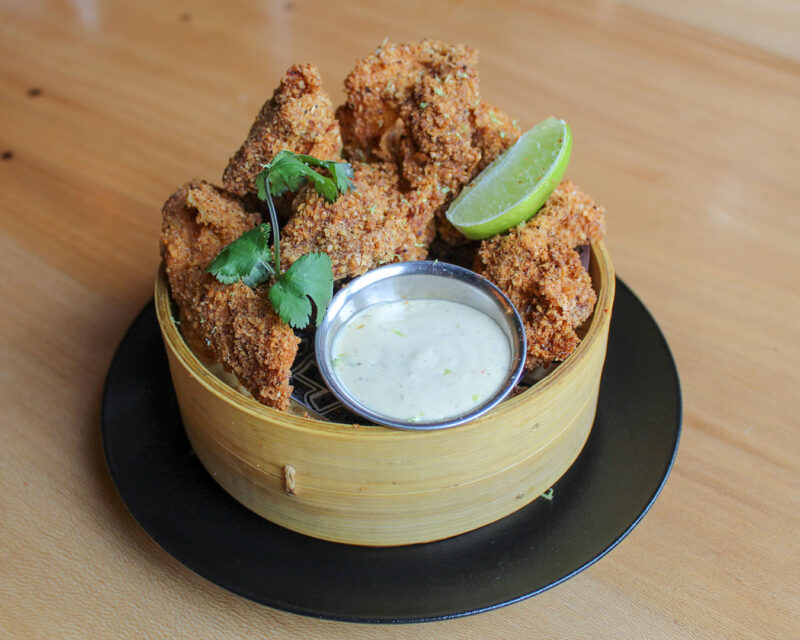 Togarashi Chicken Nuggets
A Master Sushi Chef's Take on a Childhood Favorite
Serving Size: 2
Ingredients:
S&P SALT MIX INGREDIENTS:
2 Tbsp Shio Salt
2 Tbsp Sugar
2 Tbsp Sea Salt
1 Tbsp White Pepper
1 Tbsp Sansho Pepper
1 Tbsp Black Pepper
2 Tbsp Ichimi
1 Tbsp Lime Zest
1 Tbsp Cayenne Pepper

TOGARASHI BREADING MIX INGREDIENTS:
2 Tbsp Matzo Meal, Manischewitz Brand
2 Tbsp Panko Breadcrumbs, Fresh
½ Tbsp S&P Salt Mix
Pinch of Ichimi
½ Tbsp Sesame Seeds, Crushed

CHICKEN NUGGETS INGREDIENTS:
½ Pound Chicken Thighs
2 Tbsp Egg White
4 Tbsp Togarashi Breading
2 Tbsp Lime Kosho Aioli
1 tsp S&P Salt Mix
Lime Wedge, Garnish
Lime Zest, Garnish
Cilantro Sprig, Garnish
Method:
S&P SALT MIX METHOD:
1. Combine all ingredients in a medium bowl and mix well.

TOGARASHI BREADING METHOD:
1. Combine all ingredients in a large mixing bowl and whisk until well incorporated.

CHICKEN NUGGETS METHOD:
1. Heat vegetable or canola oil to 375 degrees in a dutch oven.
2. Portion chicken into small pieces, coat each piece with egg whites
3. Toss coated chicken in togarashi breading mixture, shaking off any excess.
4. Once covered in the togarashi breading mixture, immerse the chicken into the hot oil for 4 minutes, turning once halfway through using tongs, until golden brown. Be sure not to crowd the nuggets.
5. Place the chicken nuggets on a roasting or cooling rack.
6. Before cooling, season with S&P mixture and lime zest.
7. Garnish with lime wedge and cilantro.
Download the recipe