Vegan Coconut Cake
Recipe by Miru
Looking for a light, flavorful dessert? Miru's Pastry Chef Juan Gutierrez, and winner of Netflix "School of Chocolate" is sharing his recipe for a light and fluffy Coconut Cake, plus it's vegan! Pair this cake with a side of your favorite seasonal sorbet, chef recommends mango. Stop by the St. Regis Chicago and head up to Miru on the 11th floor to check out Chef Juan's desserts.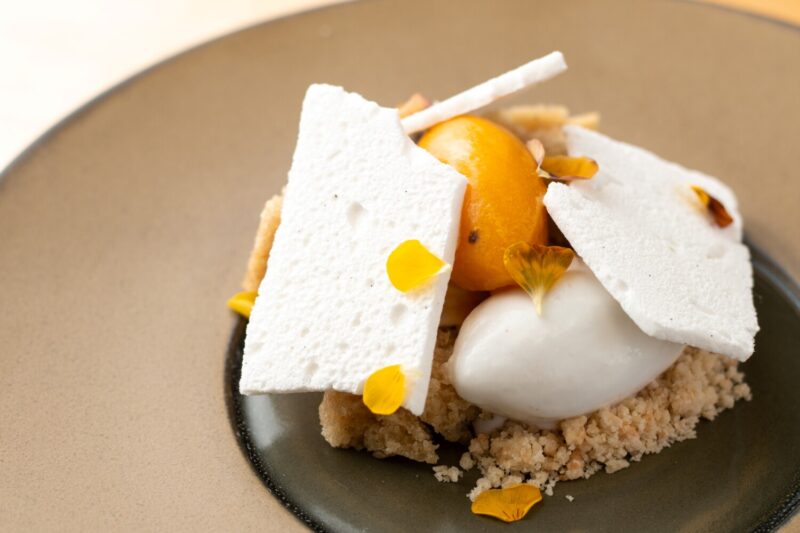 Vegan Coconut Cake
Pair this cake with your favorite seasonal sorbet
Serving Size: One 8 inch cake
Ingredients:
2 ½ cups all purpose flour
2 tablespoons cornstarch
1 tablespoon baking powder
1/2 teaspoon salt
1 1/2 cups sugar
3/4 cup canola oil or melted vegan butter
1 1/2 cups non-dairy milk (chef recommends coconut milk, not from a can)
2 teaspoons apple cider vinegar
2 teaspoons pure vanilla extract
1 teaspoon coconut extract

Method:
1. Preheat the oven to 350 F and grease one 8 inch cake pans. Place a circle of parchment paper on the bottom of each pan for easy removal.
2. In a large bowl, add the flour, cornstarch, baking powder, salt and sugar. Whisk well to combine.
3. To the bowl with the dry ingredients, pour in the oil, non-dairy milk, apple cider vinegar, vanilla and coconut extract.
4. Mix with a large spoon until just combined, but be careful not to over mix the batter or your cake won't be soft and fluffy.
5. Pour into prepared pans and bake for 30-35 minutes, until a toothpick inserted in the middle comes out clean.
6. Let the cakes cool in the pan for 10 minutes, then carefully remove them and place on a cooling rack.
7. Top with a seasonal fruit sorbet such as mango or raspberry and a non-dairy coconut milk whipped cream.

Download the recipe