Summer House Santa Monica – Lincoln Park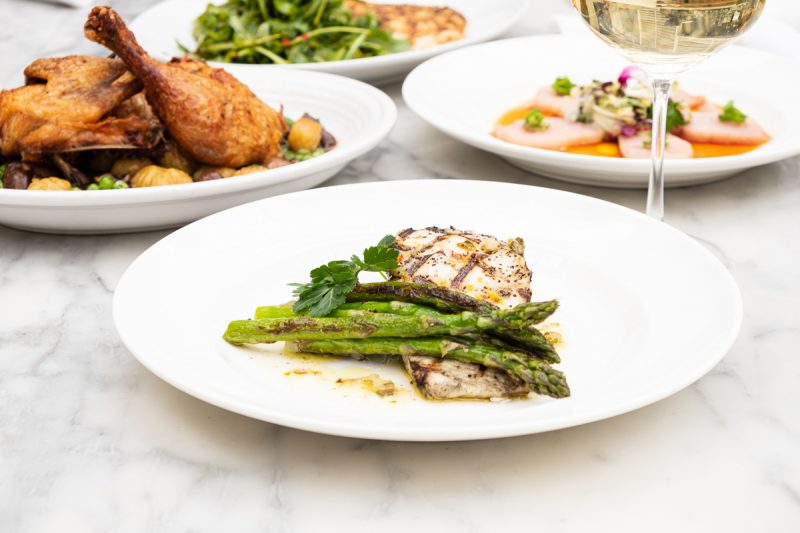 Hours
Monday – Thursday: 11:00 AM – 9:00 PM
Friday: 11:00 AM – 10:00 PM
Saturday: 9:00 AM – 10:00 PM
Sunday: 9:00 AM – 9:00 PM
Menus
Off-Site Catering Packet
Lunch Combos
pricing based per person
Sandwich Tray With Salad15.95
Sandwich Tray With Potato Chips13.95
Add Full Cookie: $3.95 Per Person
Sandwiches
select three
Stacked Turkeyshaved turkey, avocado, havarti, grain mustard and mayo on 9 grain bread
Ham And Cheddarsliced ham, vermont sharp cheddar, dijon mustard on housemade brioche roll
Stella Heroham, turkey, prosciutto, tomato, mayo, spicy giardiniera, provolone
Caprese Sandwichfresh mozzarella, heirloom tomatoes with arugula pesto on a baguette
Avocado & Sproutshass avocado, local sprouts, sliced tomato and grainy mustard on 9 grain bread
Salads
select one; host selects one, add chicken to any salad for $3
Brussels Sproutsmanchego cheese, bacon, avocado, toasted almonds, peas, mustard vinaigrette
Classic Caesarhearts of romaine, croutons, parmesan
Wilshire Blvd Cobbromaine, egg, tomato, charred corn, cucumber, bacon, point reyes blue cheese, herb vinaigrette
Appetizers
Santa Monica Guacamole Barhass avocado, pico de gallo, tomatillo salsa, ranchero sauce85
Caramelized Brussels Sproutsbalsamic vinegar, parmigiano reggiano50.95
Prime Beef Meatballshouse-made marinara, torn basil55.95
Salads
Classic Caesar Saladcaesar hearts of romaine, croutons, parmesansmall 55medium up to 15 people 11020+ people 160
Shaved Brussels Sproutsmanchego cheese, bacon, avocado, toasted almonds, peas, mustard vinaigrettesmall 55medium up to 15 people 11020+ people 160
Wilshire Blvd Cobbegg, corn, cucumber, tomato, point reyes blue, bacon, herb vinaigrettesmall 55medium up to 15 people 11020+ people 160
Costa Mesaqueso fresco, charred corn, pico de gallo, avocado, quinoa, crispy tortilla, chipotle crema, lime vinaigrettesmall 55medium up to 15 people 11020+ people 160
Pastas
priced by half pan, feeds 8-10 people
Bucatini Pomodoroorganic tomato, parmesan, basil40.95
Rigatoni Bologneserosemary & parmigiano reggiano70.95
Spicy Penne Alla Vodkacalabrian chili, reggiano, wild oregano60.95
Pizza & Sweet Treats
Pizza
priced per pizza
Classic Margheritafresh mozzarella, tomato sauce, olive oil, sea salt, basil18.95
Organic Sausage & Fennelfresh mozzarella, tomato sauce, fennel pollen19.95
Hobbs Pepperonifresh mozzarella, tomato sauce, parmesan -19.95
Spicy Salumi & Burratagarlic, fresh mozzarella, whipped burrata, tomato sauce21.95
Shaved Mushroomgruyère, onion, true, rosemary, parmesan cream, parsley21.95
Prosciutto & Egg*four cheese, sunny-side up egg, parmesan cream, chili "ake20.95
Sweet Treats
Full Size Platter - $48.95 | Mini Size Platter - $12.95
Sea-salt Chocolate Chip Cookie
Peanut Butter Cookie
Sea-salt Oatmeal Scotchie
Rice Krispy Chocolate Chip Cookie
Brown Butter Rice Krispy Treat
M&m Cookie
Sprinke Cookie
Gluten Free Chocolate Chip Cookie
Vegan Snickerdoodle Cookie
Oreo Rice Crispy Treat
Apple Oatmeal Cookie
Platters & Stations
medium feed up to 20 guests, large feeds 20+ guests
Farmers Market Crudites & Dipsfresh seasonal vegetables: blue cheese dip, creamy buttermilk dipMedium 90Large 140
Salumi & Cheese Boardchef's selection of local and artisan cured meats & cheese: housemade bread, pickles, mustardMedium 130Large 180
California Style Tacosguacamole and lime wedges: 2lbs adobo chicken • 2lbs short rib barbacoa • 2lbs roasted vegetables180
Farmer's Market Saladselection of seasonal fruitsmall 60medium 90large 120
Surcharge
A 3% processing fee is added to all guest checks. This fee may be removed upon request.
Weekend Brunch
Brunch Cocktails
Lavender Fieldsblue coat gin, lemon, blueberries12
Wokemr. coffee black, cruzan black strap, creme de cocoa, cold brew14
Come Fly With Meblue coat gin, purple matcha orgeat, elderflower14
Cider House Rulesjourneymen OCG, redemption rye, lemon, honey, ginger.........(served hot)15
Cinnamon Toast Brunchdottie may's oatmilk cream liqueur, aged rum, cinnamon13
Palm Fizzlaird's apple jack, byrhh quinquina, lemon, prosecco, rosemary15
Featured Special
Fall Vegetable Hash*crispy potatoes, poached eggs13.95
Chilaquiles Nortenossoft scrambled eggs, avocado, tomato, jalapeno, crema, cilantro, oaxaca cheese16.95
Classic Chiliprime beef, red beans, cheddar, house made corn tortilla chips9.95
Salads
add: wood grilled chicken $6.95, loch duart salmon $7.95, hass avocado $3.95
S. House Saladmixed greens, point Reyes toma, croutons, rosé vinaigrette9.95
Harvest Kale Saladshredded emerald kale, farro, delicata squash, toasted pecans, dried cranberries, pecorino romano17.95
Starters
Vegetables
Wood-grilled Shishito Pepperssweet soy glaze, shichimi togarashi, toasted sesame13.95
Roasted Cauliflowertruffle fondue, herbed parmesan crumble11.95
Sandwiches
Turkey Club9-grain bread, bacon, tomato, lettuce, havarti, mustard, mayo13.95
Cali-Mex Breakfast
Huevos Rancherosoaxaca cheese quesadilla, ranchero sauce, 2 sunny side eggs, crema, avocado16.95
Eggs
Fall Vegetable HashCrispy Potatoes, caramelized onions, carrots, parsnips, beets, poached eggs.13.95
Griddle & Iron
Crispy Strawberry Waffleswhipped cream, local berries14.95
Apple Cinnamon Wafflewhipped cream14.95
Blueberry Pancakesvermont maple syrup13.95
From the Bakery
Warm Cinnamon Roll5.95
Almond Croissant4.95
Raspberry Scone4.95
Pizza
served starting at 12:00pm
Organic Sausage & Fennelfresh mozzarella, tomato sauce, fennel pollen19.95
Proscuitto & Egg*four cheese, sunny side up egg, parmesan cream, chili flake20.95
Surcharge
A 3% processing fee is added to all guest checks. This fee may be removed upon request.
*These items are cooked-to-order. Consuming raw or undercooked meats, poultry, seafood, shellfish, or eggs may increase your risk of foodborne illness. Please alert your server if you have special dietary restrictions due to a food allergy or intolerance
Wine & Cocktails
Hand-Crafted Cocktails
Palm FizzByrhh Quinquina, apple brandy, lemon, prosecco, rosemary15
Zero-Proof Mocktails
This month, $1 from every mocktail sold will be donated to the Bobby Joe's Road to Recovery fund, raising funds for the restaurant's dear friend and former Beverage Director.
Pineapple Kickpineapple, orange, jalapeño9
Post Water-melonewatermelon, lemon, mint9
Strawberry Fieldsstrawberry, sage, lavender9
Last Call Cocktails
These large-format cocktails are available all day and designed to make last call, last longer.
Bottled Beer
Bud (light)6
Two Brothers Prairie Pathgf7
Cruz Blanca Mexico Calling6
18th St. Rise Of The Angels Dipa16oz 12
Bell's Brewing Bright White6
Stella Artois6
Spiteful God Damn Pigeon Porter12
Draft Beer
Empirical "neutronium" Imperial Rye StoutAged in Buffalo Trace Barrels 11% abv10
Buckledown BrewingParty Pillow7
Odell Sippin' Pretty Sour8
Spiteful Lager8
Lagunitas Ipa8
Old Irving Brewing "hymn"Hazy IPA8
Great Lakes Eliot Ness7
Canned
Stem Pear Cider7
June Shine Hopical Citrushard kombucha9
Basic Hard Seltzercucumber, lemon, pamplemousse, cranberry7
La Croixoriginal, pamplemousse, apricot, and coconut4
Short's Brewing Starcut Ciderdry apple cider8
Loverboy Peach Tea Seltzer9
Agua Fresca
Add a Shot For $6
Mangofresh lime, mint9
Hibiscuslemon, young ginger9
Wines by the Glass & Bottle
Sparkling
Champagne, Brut, Canard-duchene, Nv6oz 249oz 36Btl 97
Prosecco – Giuliana, Veneto, Nv6oz 119oz 17Btl 45
Rosé – M. Lawrence "sex", Leelanau Peninsula, Nv6oz 159oz 23Btl 61
Rosé
Cave "la Comtadine" Cotes Du RhoneGrenache, France 20206oz 119oz 16Btl 47
Summer Water [on Tap]Grenache, California, 20196oz 139oz 20Btl 53
Renegademouvedre, cinsault, syrah, Columbia Valley 20206oz 129oz 18Btl 49
AixCinsault, Provence, 20196oz 149oz 21Btl 57
Chateau De CampugetGrenache, Syrah, Rhone, France, 20196oz 129oz 18btl 49
"unshackled" By The Prisonerpinot noir, syrah, grenache, mouvedre6oz 179oz 24Btl 69
White
Chardonnay - NovellumFrance, 20196oz 149oz 21Btl 57
Chardonnay – Eola Hills, Willamette Valley, 20176oz 169oz 24Btl 65
Pinot Grigio – Pitars, Friuli, Italy, 20186oz 119oz 17Btl 45
Riesling - Sleight Of Hand "the Magician", Seattle, Washington6oz 119oz 17Btl 45
Sauvignon Blanc – Te HengaMarlborough, New Zealand, 20206oz 129oz 18Btl 49
Sauvignon Blanc - Pascal Jolivet "attitude"Loire, France, 20186oz 159oz 22Btl 69
Sauvignon Blanc - Round PondNapa Valley, CA, 20206oz 189oz 27Btl 73
Red
Cabernet Sauvignon – Cult, California, 20176oz 149oz 21Btl 57
Cabernet Sauvignon – Hendry, "hrw", Napa Valley, 20216oz 209oz 30Btl 81
Chianti – Podere Elisa, Chianti, It, 20166oz 129oz 18Btl 49
Merlot - Broadside, Paso Robles, 20196oz 149oz 21Btl 57
Malbec – Decero, Mendoza, 20186oz 129oz 18Btl 49
Pinot Noir - Summer House "summer Vibes", Oregon, 20196oz 189oz 27Btl 73
Pinot Noir - Matthew Fritz, Sonoma County, 20196oz 149oz 21Btl 57
Grenache Blend, "chateau De Sigries", Cotes Du Rhone, 20186oz 159oz 22Btl 63
Merlot - Broadside, Paso Robles, 20196oz 149oz 21Btl 57
Zinfandel Blend- "ridge Three Valley's", Sonoma County, 20186oz 18 6oz9oz 27 9ozBtl 73 Btl
Surcharge
A 3% processing fee is added to all guest checks. This fee may be removed upon request.
Dessert
Special Desserts
Light Coconut Cream Piebutter cookie crust9.95
Chocolate Cakewhipped cream, chocolate croquantes9.95
Banana's Foster Wafflehousemade crispy waffle pieces, toffee sauce, bananas, vanilla ice cream, whipped cream10.95
From The Market
Baked fresh daily! Select variety available while supplies last.
À La Modescoop of vanilla ice-cream2.95
Chocolate Chip3.95
Sea-salt Chocolate Chip3.95
Crispy Chocolate Chip3.95
Sea-salt Oatmeal Scotchie3.95
M&m3.95
Sprinkle3.95
Peanut Butter3.95
Gingersnap3.95
Nellie's Cookie4.95
Vegan Snickerdoodle3.95
Gluten-free Chocolate Chip3.95
Bars
Brown Butter Rice Krispy Treat3.95
Special Rice Krispy Treat3.95
Gluten Free Fudge Brownie3.95
Surcharge
A 3% processing fee is added to all guest checks. This fee may be removed upon request.
Events at Summer House Santa Monica – Lincoln Park