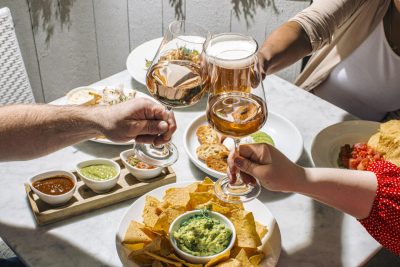 All the Ways to Rosé this Summer
All the ways to rosé
Let's face it, rosé is welcome all day, every day. We're here to help you navigate your way from still to sparking and California to Provence. Need help selecting a wine? What about a rosé cocktail? Here's your guide to where to sip rosé this summer.
In a Cocktail Sometimes you just need a refreshing drink, so our beverage directors have been busy mixing and matching spirits with rosé to concoct the perfect summer cocktail. Check 'em out!

Beatrix – Fulton Market & River North Frosé is the perfect summer sip made with rosé wine, brovo pink, grapefruit, lime and honey for a bit of sweetness.
Make a reservation at Beatrix – Fulton Market Make a reservation at Beatrix – River North
Pizzeria Portofino's Frosé is made with rosé, strawberry rhubarb, topped with a strawberry float
Make a reservation at Pizzeria Portofino
A Very Rosé Happy Hour
Every Sunday – Thursday from 5:00 PM – 6:00 PM and Friday – Saturday from 4:30 PM – 5:30 PM, Osteria Via Stato is offering half priced select glasses of sparkling rosé. What's better than sipping on a crisp glass of rosé while enjoying a signature thin crust pizza on the patio. View Osteria Via Stato's Happy Hour menu.
Enjoy half priced bottles of wine at the
Wildfire
location nearest you for Wine Wednesday. Select list developed by Wildfire's Wine & Spirits Director, Brad Wermager, including La Crema Rosé.
Rosé is an Experience
Grab a seat at one of your favorite restaurants, order a glass (or bottle to-go) and sit back and relax.
Grab a seat on
Aba's
rooftop patio to enjoy a crisp glass of rosé while you bask in the views of the city. The featured rosé is the Grenache Gris/Carignan/Mourvedre, 'Gris De Gris' from France.
Visit
Mon Ami Gabi – Chicago
(2300 N. Lincoln Park W.) and sip on Côtes de Provence "Le Provençal," Mon Ami Gabi's featured rosé for the summer. The South of France is considered the epicenter of rosé, originating in Provence (SE France), the bottle's namesake. It's bottled in the traditional "flute à corset," the region's distinctive bottle that recalls charming flower-bedecked villages. Enjoy this bottle in the dining room or the newly redone bistro-style patio.
Summer House – Lincoln Park
rolled out the pink carpet this summer for its Rosé Cart. The all-season, indoor-outdoor restaurant is the perfect place to park with a glass of rosé.
Make a reservation at Summer House – Lincoln Park.
Get Your Rosé To-Go
Beatrix- Market
in Fulton Market (834 W. Fulton Market) is now a one-stop-shop for all things wines, beers, carryout cocktails, and more! Swing by to pick up a bottle of rosé for your next get together, outdoor picnic or to enjoy on your patio.
A Quick Word from the Pros
Light & Refreshing, with or without food: Provencal-style rosé is the quintessential rosé and is refreshing and light in color & body. Look for keywords of "Aix-en-Provence" or "Cotes-du-Provence".
Light vs Dark Colored Rosé: Color can be a great guide in how to choose rosé. The lighter the color the more refreshing, while deeper hues of pink indicate a more complex wine reminiscent of a light bodied red wine.
Pocketbook Friendly Choices: There is never a need to go over budget then you're buying rosé! Compared to red wines, rosé is often less expensive to produce and price tags often don't always reflect the quality of the wine inside the bottle. When in doubt, grab a $10-15 bottle of Provencal-style or Italian Rosato such as Fiume di Vino at Pizzeria Portofino.
A Bit About Grapes: You may not be familiar with the grapes used to make your rose, not to worry.  Rosé traditionally comes from the South of France and is made from grapes like Cinsualt, Mourvedre and Grenache which would never appear on a bottle; they only use the name of the place it is from. No need to source from familiar grapes, as they tend to show far less of their expression as a rosé than they would as a red, but most of their characteristics will hold true.