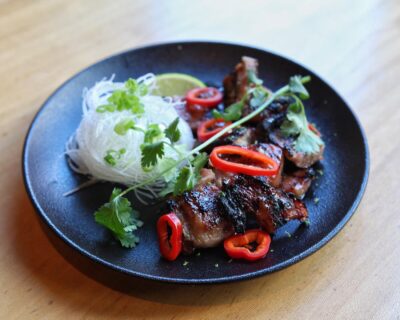 Our Chefs Are Sharing Their Families Holiday Recipes
Start a new holiday tradition
Every dish tells a story of tradition and culture and over the holiday season, family and friends from across the globe come together and connect over one common thing: Food. Four Lettuce Entertain You chefs including Master Sushi Chef Kaze Chan (Sushi-san and The Omakase Room), Executive Pastry Chef / Partner Yasmin Gutierrez (Beatrix), Chef/ Partner Raul Gutierrez (Big Bowl) and Executive Chef / Partner David DiGregorio (Osteria Via Stato) are sharing special holiday recipes inspired by their own family traditions for you to try at home.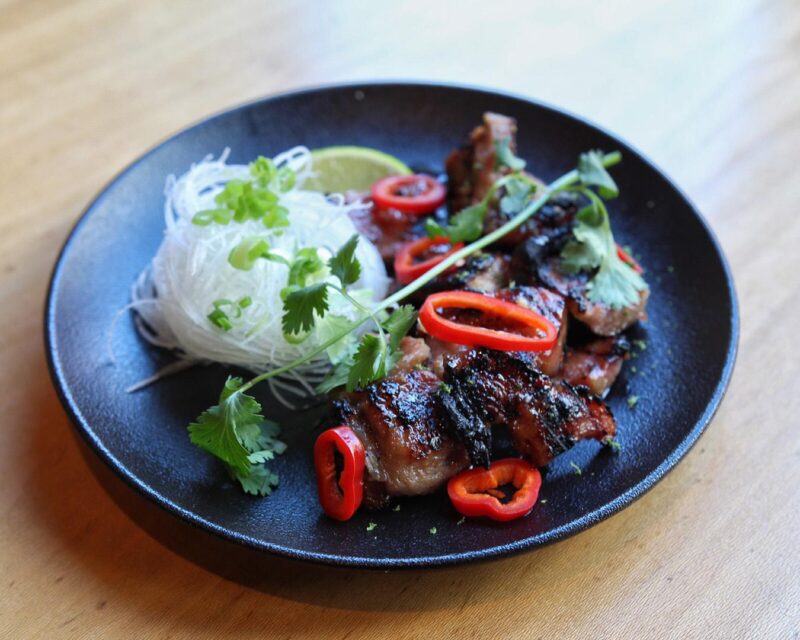 Vietnamese Pork from Master Sushi Chef Kaze Chan (Sushi-san)
The Dish: Vietnamese Pork made with Berkshire pork with fresno chili, green onion and cilantro caramelized over binchotan charcoal.
The Story: This recipe has been in my family for generations. I first remember my grandmother making this at her restaurant back in the 1950s in Saigon. This dish has its origin with my family's restaurant, but it has continued to be a Chan family staple, with my mother and aunt cooking it for me regularly throughout their lives. Today this 70 year old recipe lives on at Sushi-san. The high quality elements of the recipe remain the same, but we have elevated the dish by sourcing pasture-raised Berkshire Pork, a heritage breed of pig that is common in Japan.
For the full recipe of the Vietnamese Pork, click here.
Try this dish at Sushi-san, make a reservation.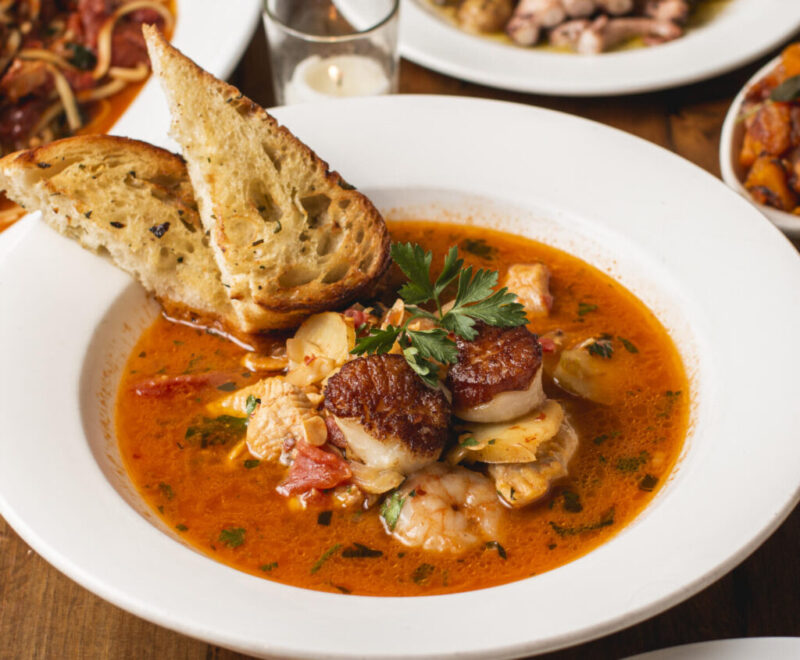 Seafood Stew from Executive Chef David DiGregorio (Osteria Via Stato)
The Dish: Seafood Stew with seared scallops, shrimp, market fish served with garlic ciabatta bread
The Story: The Feast of The Seven Fishes, named for the seven hills of Rome, is a multi-course holiday meal that captures the spirit of Italy with an abundance of seafood dishes from around the country. I have wonderful childhood memories of my grandfather preparing the Feast of the Seven Fishes every Christmas Eve. The holiday was centered around food and family and we looked forward to it every year. My favorite bite was tiny fried smelts, so tender and crispy. At Osteria Via Stato, the Seafood Stew has been a tradition on the Feast of the Seven Fishes menu for many years. The savory, hearty tomato broth is one of my favorite things to cook and eat. For me, it is all about nostalgia and family.
For the full recipe for the Seafood Stew, click here.
You can try the Seafood Stew as part of Chef David's Feast of Seven Fishes at Osteria Via Stato this Christmas Eve, view the menu and make your reservation.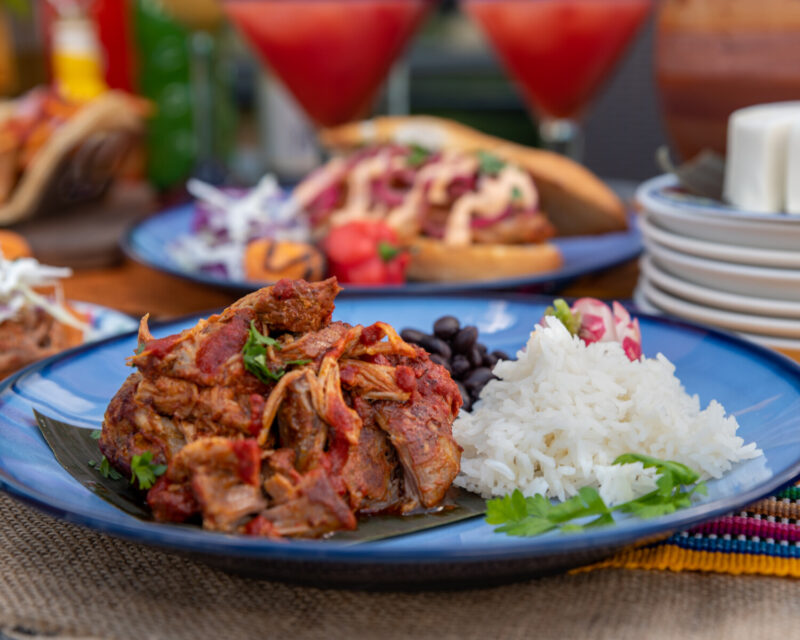 Cochinita Pibil from Executive Chef Raul Gutierrez (Big Bowl)
The Dish: Slow Roasted Pork traditionally cooked underground in Adobo Sauce wrapped in a banana leaf, served with rice, beans. For this dish in particular, it is mixed with fresh citrus juices and more spices. The high acid content of the marinade and slow cooking time tenderizes the meat, allowing otherwise tough pieces of meat to be used. Cochinita Pibil is prepared and used for multiple dishes like tacos, tortas or panuchos. It is always served with a salsa call xnipec. This sauce is made with red onions, habanero pepper, cilantro and sour orange. It is also eaten with sides like yellow corn tortillas, banana leaves, red pickled onions, refried black beans and habanero chilies.
The Story: This recipe has been in my family for generations. My wife Maria and I prepare this for our family gatherings and celebrations. This dish dates back to the pre-Hispanic times of the Mayan civilization. It originates from the peninsula of Yucatan. Pibil comes from the Mayan word pib, which means "cooking underground"; where the meat cooks slowly until tender. One of the main characteristics of this dish is that it is cooked with achiote (annatto seed); it is derived from a small tree that produces a seed that when it matures it turns orange and is used as a condiment.
For the full recipe for Cochinita Pibil, click here. 
Make a reservation at the Big Bowl location nearest you.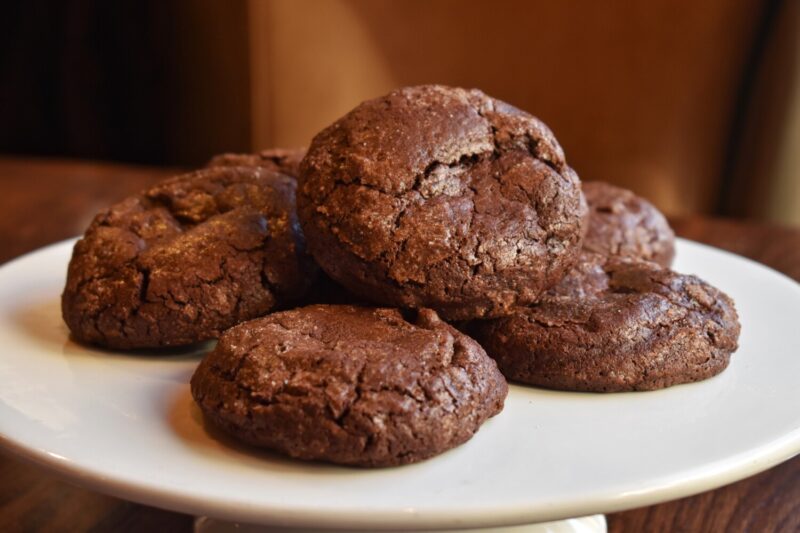 Spicy Mexican Chocolate Cookies from Executive Pastry Chef Yasmin Gutierrez (Beatrix)
The Dish: Spicy Mexican Chocolate Cookie with milk chocolate and cayenne

The Story: Growing up, my mom always made hot chocolate and champurrado with Abuelita, a traditional, cinnamon-infused chocolate commonly used in home cooking in Mexico. I replicated these flavors when creating the Spicy Mexican Chocolate Cookie by using milk chocolate, cinnamon and the addition of cayenne. Each bite reminds me of Mexico.
Click here for the recipe for the Spicy Mexican Chocolate Cookies.