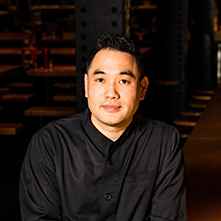 Kaze Chan
Master Sushi Chef & Partner
Master Sushi Chef Kaze Chan began his culinary career at the age of 20 while simultaneously pursuing his degree in architecture. He apprenticed at Restaurant Suntory in Boston as Assistant Sushi Chef, and from there he continued his culinary training under official Japanese Sushi Master, Shozu Iwamoto.

Upon graduation, Chan moved to Chicago where he was exposed to cuisines from around the world. New flavors and styles inspired him to incorporate global ingredients into his Japanese dishes. He furthered his career at premier establishments, including Sai Café, Mirai, Heat, Sushi Samba and Executive Chef / Partner of Kaze Sushi, where he refined his craft and continued to break the mold of Japanese cuisine.

In 2009, Chan was named Executive Sushi Chef / Partner at Macku Sushi. During this time, his innovative take on Japanese cuisine garnered high praise, being named one of the country's best sushi restaurants by Travel + Leisure magazine and recommended by the Michelin Guide. From there, Chan joined Boka Restaurant Group's Momotaro as Head Sushi Chef in 2014, where his passion for Japanese cuisine accompanied by his architectural background transformed each dish into a unique work of art.

With more than 20 years of experience in all facets of traditional and contemporary Japanese cuisine, Chan made the move to the renowned Chicago-based restaurant group, Lettuce Entertain You Restaurants. In December 2017, Chan and his Lettuce partners opened up Sushi-san in the heart of Chicago's River North – a "not-your-typical sushi joint" that serves up crispy hand rolls, bincho-tan roasted meats and ice-cold Asahi beer in a raw industrial atmosphere. Guests can see Chan and his sushi chefs in action at the sushi counter for a 45-minute-for-$45 omakase experience spotlighting the day's most unique and interesting ingredients.

Chan and the Sushi-san team opened the second Sushi-san in Chicago's iconic Willis Tower in 2021 and most recently in February 2022, The master sushi chef and his team opened The Omakase Room at Sushi0-san, a unique omakase experience above Sushi-san River North where Chan will showcases a 18-course menu with luxury ingredients.