Fire-Grilled Greek Chicken
Recipe by Wildfire
Wildfire's Fire-Grilled Greek Chicken is the perfect dish for all of your summer dinner party needs. Serve this chicken up with Ema's Watermelon & Feta Salad and Pizzeria Portofino's Portofino Spritz to keep the fresh, mediterranean theme going.
Want to know the best part? The dressing is already made! You can buy Wildfire's Red Wine Vinaigrette, along with other dressings and marinades, at all Wildfire locations and at a variety of local grocery stores including Mariano's & Sunset Foods.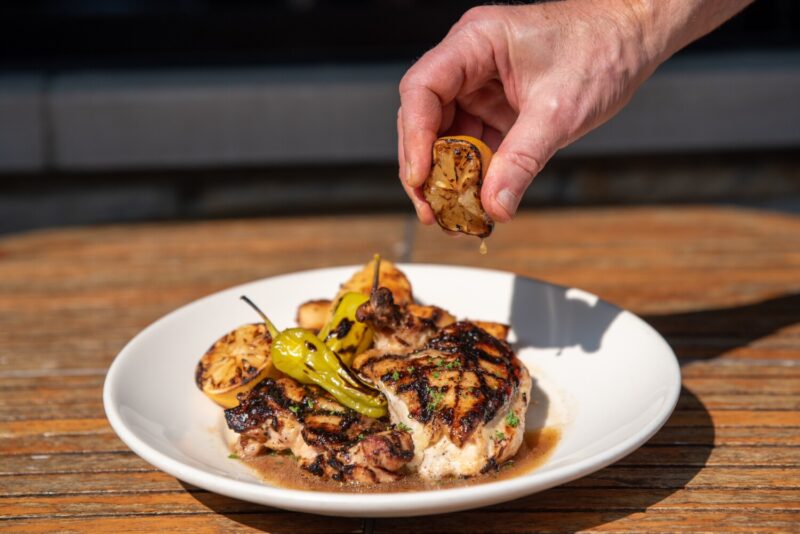 Fire-Grilled Greek Chicken
The perfect summer entrée
Serving Size: 2 people
Ingredients:
• 1 fresh whole chicken (3.5-4 lbs)
• ½ cup Wildfire Garlic Red Wine Vinaigrette
• 2 Tbsp minced fresh garlic
• 4 tsp kosher salt
• 2 tsp fresh ground black pepper
• 2 tsp dry oregano
• ½ tsp crushed red chilies
Method:
1. On a cutting board, pat the chicken dry with a paper towel. Position the chicken breast-side down, and remove the backbone of the chicken by cutting down either side of the spine using a very sharp knife or kitchen shears.
2. Place the chicken breast-side up, with the legs facing outward.
3. Flatten it by placing pressure on the breast bone- you may hear a small crack. This technique is called spatchcocking. .
4. With breast-side up, drizzle 1/4 cup Wildfire Garlic Red Wine Vinaigrette evenly over chicken
5. Rub with 1 Tbsp of minced garlic, and season with 2 tsp kosher salt, 1 tsp fresh ground black pepper, 1 tsp oregano, 1/4 tsp crushed red chilies.
6. Flip the chicken over and repeat with the same seasonings.
7. Let the chicken marinate for at least 2 - 3 hours, covered in the fridge.
8. Set up your grill to medium heat either by gas or charcoal.
9. Grill chicken skin-side up for approximately 20 minutes.
10. Flip the chicken and grill for another 20 minutes.
11. Using a meat thermometer, the internal chicken temperature should be 165 degrees.If you do not have a thermometer, you can tell that the chicken is cooked when the skin is golden brown and the juices run clear when cut between the thigh and the drumstick.
12. Remove chicken from the heat, and let it rest about 20 minutes before carving.
Download the recipe