Superfood Muffins
Recipe by Beatrix
You know those mornings where even the extra shot of espresso isn't going to cut it? That's where Beatrix's Superfood Muffin comes in. It's full of good-for-you ingredients like almond flour, flax seed, chia seed and oats to power you through the day. Whether you're at one of Beatrix's four locations, or stopping by a Beatrix Market, head to the pastry counter to get your fix.
You asked for it so here it is, the recipe for Beatrix's Superfood Muffin from Pastry Chef/Partner Yasmin Gutierrez.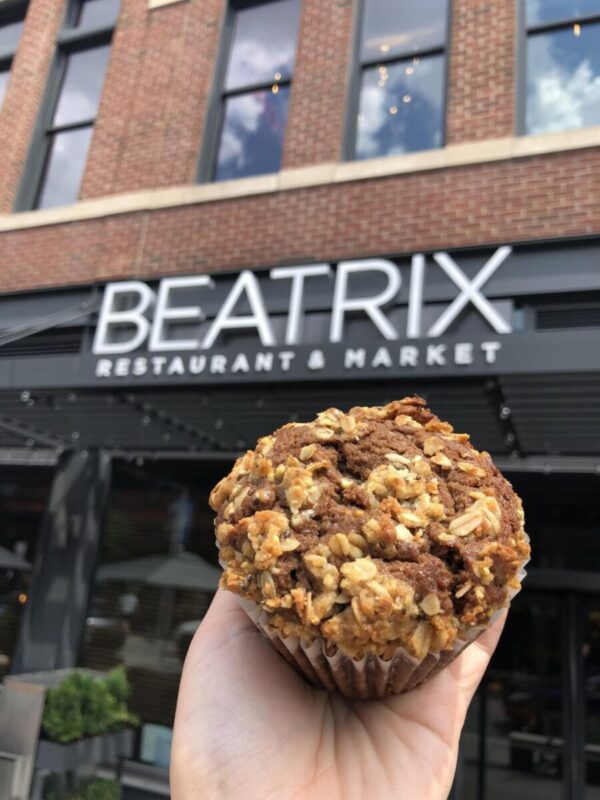 Click here to learn more about the Chef behind all the desserts and pastries available at Beatrix, Yasmin Gutierrez!
Superfood Muffins
Need a quick and filling breakfast you can prepare ahead of the week? Beatrix has you covered with their iconic Superfood Muffin
Serving Size: makes 32 muffins
Ingredients:
5 cups all purpose flour
½ cup coffee flour
8 tbsp. almond flour
4 tbsp. ground flax seed
5 tbsp. rolled oats
4 tbsp. millet
4 tbsp. chia seed
2 tbsp. ground cinnamon
2 tsp. baking powder
1 tsp. baking soda
1 cup. light brown sugar
1 cup. granulated sugar
1 tbsp. kosher salt
1 cup unsalted butter, melted
1 ⅓ cups honey
2 cups buttermilk
2 cups canola oil
4 large eggs
4 tsp. vanilla extract
4 granny smith apples, peeled, grated and juice squeezed out
Method:
1. In a large bowl, mix melted butter, honey, buttermilk, canola oil, eggs, and vanilla extract with a whisk.
2. In a stand mixer, place all dry ingredients in the bowl and mix with the paddle attachment.
3. Slowly pour the egg, butter, honey, vanilla extract and canola oil mixture into the bowl while the mixer is running on low. Continue to mix in all liquid until it is well combined.
4. Stop the mixer and fold in grated apples.
5. Pour batter into greased muffin pans (you can use liners, if you wish) and bake at 325 degrees F for 30-35 minutes, or until a toothpick inserted into the center of a muffin comes out clean.

Download the recipe