Osteria Via Stato – Chicago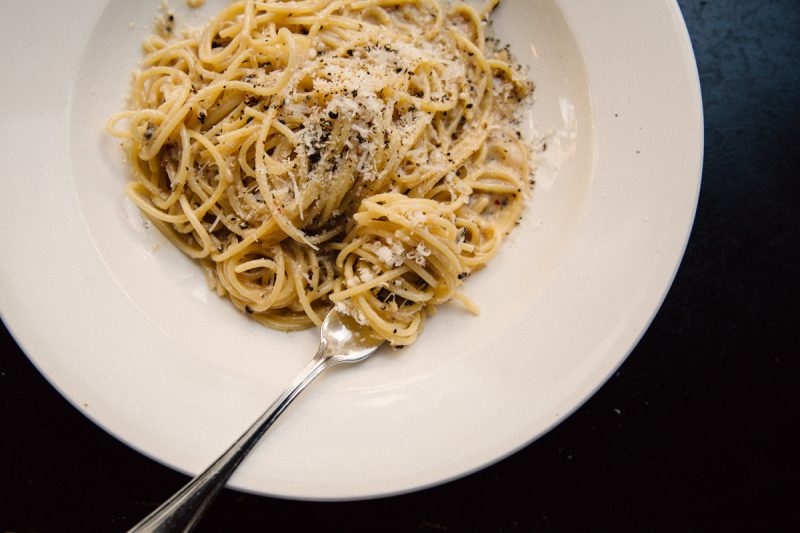 Hours
Dining Room:
Sunday - Thursday: 5:00 PM - 8:30 PM
Friday - Saturday: 4:30 PM - 9:30 PM

Carry Out:
7 Days a Week: 11:30 AM - 8:30 PM

Hours May Vary Due To Private Events
Menus
Menu
Bottled Italian Water
Pellegrino1L7.95
Acqua Panna1L7.95
Antipasti
Seasonal SoupChef's daily Selection4.95
Salads
Pizzas
Mushroom & Sweet Onionmozzarella, tomato sauce13.95
Add OnsChili Oil $1.50 - Black Olives $2.50 - Fresh Mozzarella $2.50 - Mama Lil's Peppers $2.50 - Mushrooms $2.50 - Sweet Onions $2.50 - Anchovy $3.00 - Farm Egg $3.00 - Pepperoni $3.00 - Sausage $3.00
Pastas
Specialties
Pan Roasted Faroe Island SalmonBlack Lentils, Toasted Garlic, Lemon26.95
Sides
The Famous Italian Dinner Party
Your meal will include the following for $39.95 per person
Antipastifamily style
Warm Ciabatta & Roasted GarlicEVOO, Aged Balsamic
Seasonal SoupChef's Daily Selection
Slagel Farm Meatballs "polpettini"Simple Tomato Sauce
EntreeYour choice of
Chicken MarsalaWild Mushrooms, Potato Puree
Slagel Farm Pork ChopRoasted Peppers, Onions, Whipped Potatoes, Pork Jus
Slagel Farm Braised Short RibWhipped Potatoes, Roasted Tomato, Red Wine Sauce
Ricotta CavatelliHousemade Sausage, Tomatoes, Spinach, Parmesan Broth
Pan Roasted Faroe Island SalmonBlack Lentils, Toasted Garlic, Lemon
And For DessertChocolate Hazelnut Panna Cotta
Desserts
Affogato
AffogatoHousemade Vanilla Gelato, La Colombe Espresso7.95
Amaro AffogatoHousemade Caramel Gelato, Amaro Averna10.95
Osteria Market
Ready made menu favorites to take home.
Sea Salt & Olive Oil Ciabattawhole loaf7.95
Balsamic Garlic1/2 Pint8.95
Corto Extra Virgin Olive Oil12oz11.95
Housemade Limoncello12oz24.95
Surcharge
A 3% Processing Fee Is Added To All Guest ChecksThis Fee May Be Removed Upon Request
Consuming raw or undercooked meats, poultry, seafood, shellfish, or eggs may increase your risk of foodborne illness. All items are subject to availability
Wine List
Bianco By The Glass
All of the wines below are listed with the lightest, most delicate styles at the top, and the richest and fullest bodied styles at the bottom.
Prosecco Valdo, "number 1" Extra Dry Veneto 2018Bottiglie 40Glass 10
Pinot Grigio La Fiera, Veneto 2020Bottiglie 48Glass 12
Sauvignon Blanc Tramin, Friuli 2020Bottiglie 52Glass 13
Pinot Bianco Elena Walch, Alto Adige 2019Bottiglie 56Glass 14
Chardonnay Caldora, Abruzzo 2018Bottiglie 56Glass 14
Bertani "bertarosé" 2020Bottiglie 52Glass 13
Rosso By The Glass
All of the wines below are listed with the lightest, most delicate styles at the top, and the richest and fullest bodied styles at the bottom.
Pinot Noir, Walch 'prendo', Alto Adige 2020Botteglie 56Glass 14
Barolo Franco Molino "cascina Rocca" Piedmont 2015Botteglie 80Glass 20
Ca Donini Montepulciano D'abruzzo 2018Botteglie 44Glass 11
Chianti Classico Poggio Civetta, Tuscany 2017Botteglie 52Glass 13
Barbera D'asti Superiore, Olim Bauda, Piedmont 2015Botteglie 60Glass 15
Valpolicella Ripasso Remo Farina, Veneto 2018Botteglie 56Glass 14
Sangiovese/cabernet/merlot, Il Poggione, Tuscany 2018Botteglie 60Glass 15
Whites By The Bottle
The North
Pinot Bianco/chard/sauvignonCantina Terlano "Terlaner", Alto Adige 201779
Sauvignon BlancTramin, Friuli 202052
Sauvignon BlancVenica "Ronco del Cero", Friuli 201975
Pinot BiancoElena Walch, Alto Adige 201956
PigatoClaudio Vio, Liguria 201869
VermentinoLunae "Colli di Luni", Liguria 202056
ChardonnayAntinori "Bramito", Umbria 201959
Pinot GrigioLa Fiera, Veneto 202048
Ribolla GiallaLe Monde, Friuli 201852
Cortese Di GaviPicollo Ernesto, Piedmont 201948
Central Italy
PecorinoLa Valentina, Marches 201944
GrechettoSergio Mottura "Poggio della Costa", Lazio 201656
The South
FalanghinaCampi Flegrei, Campania 201669
GreccoMare Chiaro Chiaro Cirò, Calabria 201752
Vermentino Di SardegnaPala "I Fiori", Sardinia 202040
InsoliaCusumano, Sicily 201740
Reds By The Bottle
The North
Lagrein J. HofstatterAlto Adige 201844
Valtelina SuperioreRainoldi "Inferno" Lombardy 201589
Dolcetto D' AlbaBrandini "La Morra", Piedmont 201949
Barbera D' AlbaPaitin "Serra", Piedmont 201855
Barbera D'albaPrunotto "Fiulot" 201952
Langhe Rosso (nebbiolo/merlot/cab)Angelo Gaja "Sito Moresco", Piedmont 2015130
GattinaraVallana, Piedmont 200894
NebbioloFranco Molino, Piedmont 201854
NebbioloIl Segreto, Piedmont 201459
NebbioloMontaribaldi "Gambarin", Piedmont 201864
BarbarescoMontaribaldi Palazzina", Piedmont 201689
BaroloMarchese di Barolo "Antiche Cantine Riserva", Piedmont 2006295
BaroloFranco Molino, Piedmont 201580
Valpolicella ClassicoSecondo Marco, Veneto 201652
Valpolicella ClassicoSuperiore Speri "Roverina", Veneto 201759
Amarone Della ValpolicellaPalazzo Maffei, Veneto 2016120
RucheFerraris, Piedmont 201959
Central Italy
SangioveseCapezzana Carmignano, Tuscany 201675
Vino Nobile Di MontepulcianoAvignonese , Tuscany 201679
Chianti ClassicoFontodi, Tuscany 2015150
Chianti ClassicoPoggio Civetta, Tuscany 201752
Chianti ClassicoVilla La Pagliaia "Riserva", Tuscany 201674
Chianti ClassicoQueciabella, Tuscany 201579
Rosso Di MontalcinoAntinori "Pian Della Vigna" , Tuscany 201875
Rosso Di MontalcinoCaprili, Tuscany 201959
Rosso Di MontalcinoDonatella Colombini, Tuscany 201678
Brunello Di MontalcinoArmilla, Tuscany 2016140
Brunello Di MontalcinoCastel Giocondo, Tuscany 2016175
Brunello Di MontalcinoIl Poggione, Tuscany 2014195
Sangiovese/cabarnet/merlotIl Poggione, Tuscany 201860
Cabernet/cab Franc/merlot/petite VerdotFattoria Collazzi, Tuscany 2016110
Cabernet FrancLueta, Tuscany 2015135
Merlot/syrah/sangioveseGaja Ca' Marcanda "Promis" , Tuscany 2016115
Rosso Di MontepulcianoSanguinetto, Tuscany 201756
Montefalco RossoPerticaia, Umbria 201479
Montefalco SagrantinoArnaldo Caprai "Colleppiano", Umbria 2013125
Montefalco SagrantinoPaolo Bea "Pagliaro", Umbria 2011285
The South
Pallagrello NeroMichele Alois "Murella", Campania 2011110
CannonauPala "Riserva", Sardinia 201669
Montepulciano D'abruzzoAureo, Abruzzo 201740
Syrah/cabernet/merlotMontessu, Sardinia 201860
PrimitivoLeone di Castris "Villa Santerra", Puglia 201874
Nero D'avolaMarabino "Rosso di Contrada", Sicily 201559
Frappato/nero D'avolaOcchipinti "SP68", Sicily 202079
Nerello MascaleseEtna Rosso Tornatore, Sicily 201669
Nerello MescaleseEtna Rosso Passopisciaro "Passorosso", Sicily 201598
Cocktails della Casa
Aperol SpritzAperol, Valdo Prosecco "Number 1"12
Blood Orange MuleBASIC PREMIUM VODKA, FRESH BLOOD ORANGE PUREE, LIME, BURLESQUE BITTERS14
Stella BiancaVODKA, ST GERMAIN ELDERFLOWER, WHITE GRAPE JUICE, FRESH LEMON SOUR14
Sicilian Old FashionedBOURBON, ZUCCA AMARO, BITTER TRUTH CHERRY BARK VANILLA BITTERS, AMARENA CHERRY14
Beer
bottle & draft
Miller LiteWISCONSIN5.75
RevolutionFist City Pale Ale6.95
Half AcreDiasy Cutter IPA6.95
Blue MoonColorado6.95
Revolution Ant-hero IpaChicago7.95
Menabrea AmberItaly8.95
Rotating Seasonal Draft
Please advise the restaurant of any dietary restrictions and allergies when dining in or placing a carry out order. Consuming raw or undercooked meats, poultry, seafood, shellfish, or eggs may increase your risk of foodborne illness. All items are subject to availability
Happy Hour
HALF PRICED PIZZAS & SELECT WINES BY THE GLASS
Sun-Thurs 5pm-6pm / Fri-Sat 4:30pm-5:30pm
Classico Cheesemozzarella, tomato sauce
Margheritacrushed tomatoes, hand-pulled mozzarella, basil
Mushroomvidalia onion, mozzarella, tomato sauce
House-made Fennel Sausagehousemade sausage, mozzarella, tomato sauce
Charred Pepperonimozzarella, tomato sauce
Wine By The GlassValdo Prosecco, Le Manzane Rose Prosecco, Sant'Ana Pinot Grigio and Ca Donini Montepulciano.
COVID-19 Surcharge
To help offset restrictions on our business resulting from the COVID-19 crisis, a 5% surcharge has been added to all guest checks. If you would like this removed, please let us know
Please advise the restaurant of any dietary restrictions and allergies when dining in or placing a carry out order. Consuming raw or undercooked meats, poultry, seafood, shellfish, or eggs may increase your risk of foodborne illness. All items are subject to availability
Events at Osteria Via Stato – Chicago