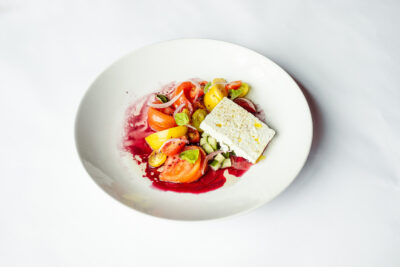 Chefs' Favorite Summer Ingredients
Enjoy them while they're still available
Summer is in full swing and our restaurants are taking advantage of all the season has to offer. To give you a taste, we asked some of our chefs what their favorite summer ingredients are and how they use them on their menus. From heirloom tomatoes and strawberries to sweet peas and watermelon, here's where you can try them!
Jump to your summer favorites:
Blueberries | Corn | Heirloom Tomatoes | Pea Shoots | Strawberries | Sweet Peas | Watermelon | Zucchini
Basil
Fresh basil reminds me that summer is here!  The freshness and tinge of herbiness makes the summer rolls like a salad bite in every roll.  Every bite is flavorful and refreshing with the fresh basil. In Thai cuisine, a lot of dishes are made with fresh herbs, which compliment well with the bright citrus flavors and peppers used in many of our dishes. Give it a try in our Shrimp Summer Roll, available for a limited time only as a summer featured dish. – Chef Raul Gutierrez
Make a reservation at the Big Bowl location nearest you.
Blueberries
I love to use tart blueberries to balance out the rich texture of our cheesecake. We add lemon zest as well to punch it up even further. When available, we source our blueberries from local farms such as Mick Klug or Seedling. Even commercial blueberries are very good this time of year, so use whatever is convenient. Try the RPM Cheesecake with Blueberry Compote. – Executive Pastry Chef Andrea Cote
Make a reservation at RPM Steak.
Corn
I grew up in southern Illinois and roadside corn stands were a sure marker of summer. Believe it or not modern horticulture has made sweet corn even better. When cooking with summer corn, I like to focus on simple preparations to showcase the corn's texture and sweetness while not overpowering other elements of the dish. Enjoy it in our Halibut with Summer Corn Succotash. – Divisional Chef Ben Goodnick
Make a reservation at Summer House – Lincoln Park.
Have fresh corn at home? Try your hand at these recipes: Saranello's Summer Tomato and Corn Risotto and Spicy Grilled Street Corn from Quality Crab & Oyster Bah.
Heirloom Tomatoes
We purchase heirloom tomatoes from Nichol's Family Farm and Orchard right here in Marengo, IL, just a short drive north of the city. I have personally been there and have seen the love they put into their tomatoes, both in the greenhouse which allows them to start selling tomatoes as early as June, and out in the fields where they are picked by a dedicated team. Enjoy them during peak season in our Tomato salad, the sweet acidity of the tomatoes contrasts nicely against the saltiness of the Corsican feta. – Executive Chef David Koehn
Make a reservation at Mon Ami Gabi – Lincoln Park.
Pea Shoots
The pea shoots at Mon Ami Gabi come from Closed Loops Farms, located in the Back of the Yards neighborhood right here in Chicago. Their owner and founder Adam grows everything in the highest quality soil that anyone could produce. He is incredible and the depth of flavor he is able to achieve is unparalleled! We feature pea shoots in the Arugula Salad for a few reasons. First, they have a ton of natural sweetness, just like a sweet English pea, which balances the peppery spice that arugula provides. They also have a great crunch, so they give the salad a nice bite, a little bit of crunch against the arugula which is a softer leaf. Lastly, they look really pretty and cool! – Executive Chef David Koehn
Make a reservation at the Mon Ami Gabi location nearest you.
Strawberries
We are currently enjoying strawberries at Beatrix in the Local Burrata with heirloom tomato, strawberries and pistachio . The sweetness from the strawberries brings balance to this dish and their flavor is amplified by their inclusion in the vinaigrette which ties it all together. Strawberries are a seasonal favorite for the summer and can add a bright, refreshing pop of color and contrast to otherwise savory dishes! – Associate Partner & Beatrix Corporate Chef Andrew Ashmore
Make a reservation at the Beatrix location nearest you.
Check out Beatrix Chef Partner Andrew Ashmore's Local Burrata recipe here!
Sweet Peas
The locally-sourced sweet peas we use add just enough sweetness and crunch to the new Cavatelli with Asparagus & Sweet Peas dish, and perfectly balance out the spicy prosciutto gremolata and roasted garlic cream broth. – Chef Liz Cisek
Make a reservation at Antico Posto
Watermelon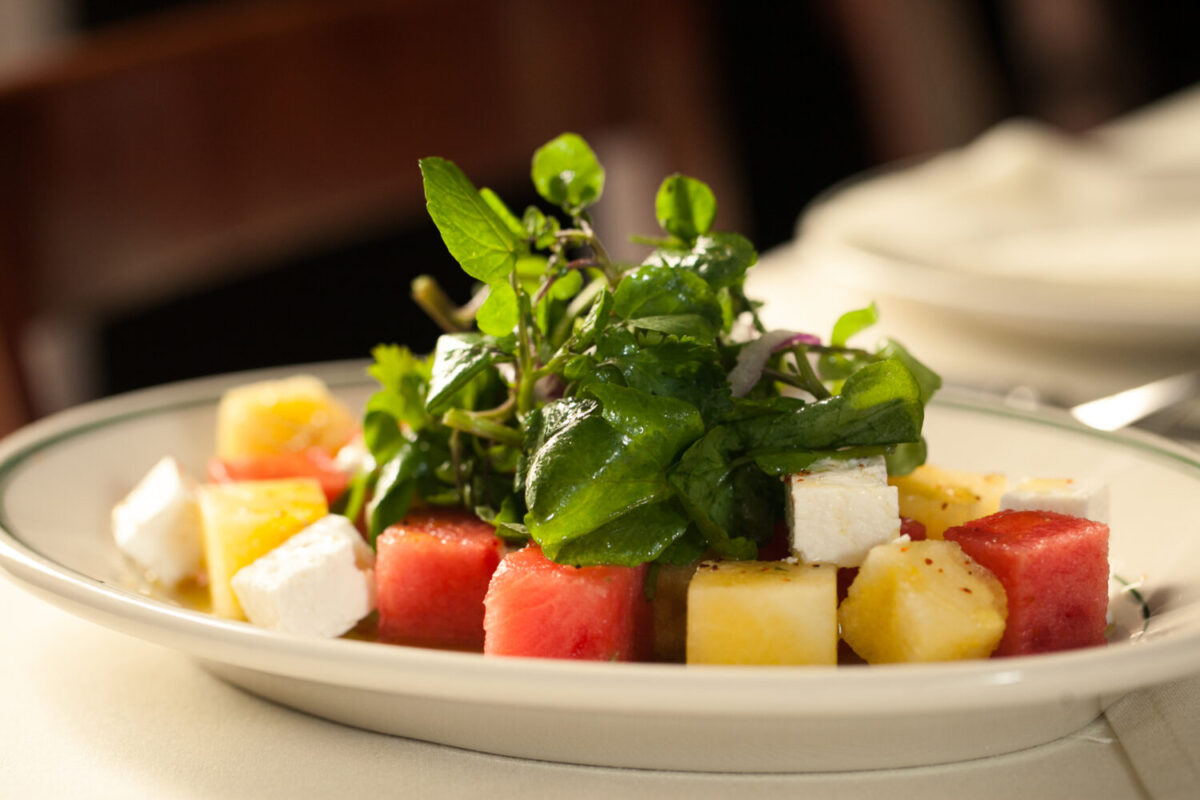 Joe's Seafood, Prime Steak & Stone Crab
Watermelon season typically starts late May through September but we find July & August to produce some of the tastiest melons. Early in the season most of our melons are sourced from Florida, Georgia, and Texas but as the season progresses, it's actually our neighboring state, Indiana, that produces some of the best melons in the country.

Joe's Watermelon Feta Salad is the perfect dish for a light and refreshing yet satisfying start to any meal. This salad recognizes all five basic flavors we are accustomed too – sweet from the watermelon, salty from the feta, bitter from the watercress, sour from the jalapeno lime vinaigrette and finally Tajin for the umami flavor. – Chef Partner Justin Diglia
Make a reservation at the Joe's Seafood location nearest you.
Zucchini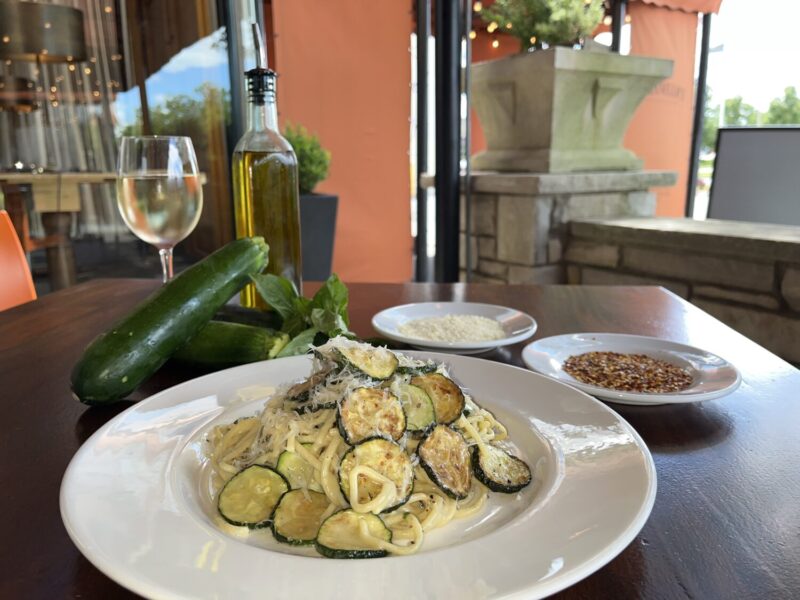 Speaking on summer ingredients, my all time favorite is a zucchini. I love the flavor and the texture of this vegetable. We planted zucchini in the backyard where I grew up in central Indiana and it was one of my mom's favorite ingredients to use. This summer, I'm planning on featuring the Spaghetti alla Nagano, which is a pasta dish that Stanley Tucci made famous from Amalfi, Italy. The dish consists of lightly fried zucchini, basil, olive oil and a blend of pecorino and parmesan cheese, emphasizing the freshness of the zucchini. It is simply delicious! – Chef Partner Mychael Bonner
Make a reservation at Saranello's
Have a bounty of a summer harvest? We've got some pickling tips and recipes to share so you can enjoy summer anytime!
Saranello's Giardiniera recipe
Summer House's Pickled Peaches recipe
Summer House's Endless Pickle Jar recipe
Summer House's Corn Chow Chow recipe