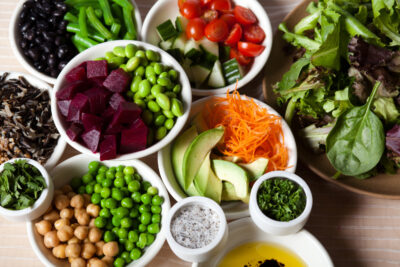 Lettuce Chefs Share How They Meal Prep
Meal plan & prep like a pro
The thought of meal prepping sounds daunting but we're here to help make healthy cooking at home easier! We chatted with a few of our Lettuce chefs to get their tips and tricks on easy meal prepping and planning for the week to set you up for success.
Prefer to dine with us? Here are some healthier menu options at some of your favorite Lettuce restaurants.
Now on to the good stuff!
Choose your menu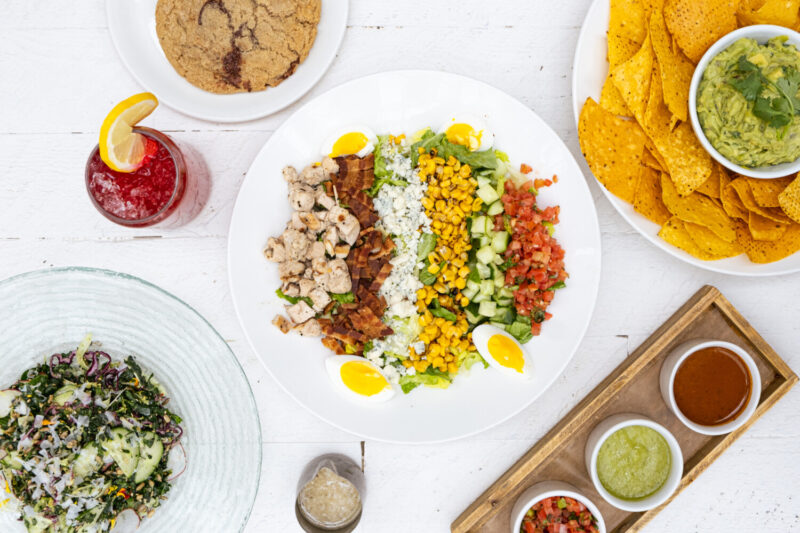 Chef Ben Goodnick (Summer House, Coastal Soups, Stella Barra Pizzeria): "First thing, make a plan of what you want for the week. See if anything left over can be repurposed. Any bits and pieces can be prepared into something to start for the following week, for example, half an onion in your fridge plus your kids' carrot sticks from lunch can be used for chicken stock. Try to think about meals that can be a dinner dish and then be slightly adapted to become lunch (my family isn't great at eating leftovers)."
Looking for recipe inspo? Check out recipes inspired by our restaurants here.
Need help planning your menu?
Skip to Chef Janet's sample menu
Skip to Chef Ben's sample menu
Make a list
Chef Ben likes to write a grocery list on paper so he can easily cross it off as he shops. But how do you make a list and why do you need it?
Chef Andrew Ashmore (Beatrix, Antico Posto, L. Woods) tells us how: "When it comes to meal prepping at home, I think it is very similar to how we work in our restaurants. After you write your menu for the week, use it to create a plan for shopping and prepping. Review all of your recipes and menu items and create your shopping list before you head to the store."
Chef Janet Kirker (Beatrix Market) tells us why: "I like to begin most prep tasks with a list. This allows me to look at the week as a whole, matching the complexity of the meals with the time I have for each day." 
Mise en place
Mise en place is French for putting in place, but in the kitchen, it's more than that.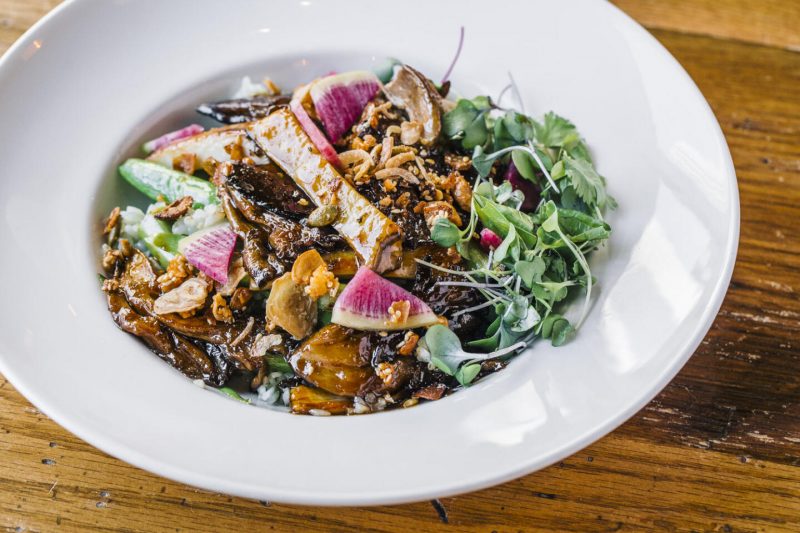 Chef Andrew: "In the restaurants, we are most successful when we have our "mise en place" in order. "Mise en place" is a culinary process in which ingredients are prepped and organized prior to opening the restaurant and preparing meals for our guests each day. At home, I recommend doing all of your vegetable chopping, ingredient measuring, cooking grains, etc. ahead of time. That way, when you come home after a long workday you can begin cooking right away and get your delicious meal onto the table much quicker."
Setting your "mise en place" is not as challenging as it sounds, Chef Janet adds: "These are weekend activities that don't all have to be done at once, and each task is not too daunting on its own when also planning time for relaxation." 
Keep it clean and organized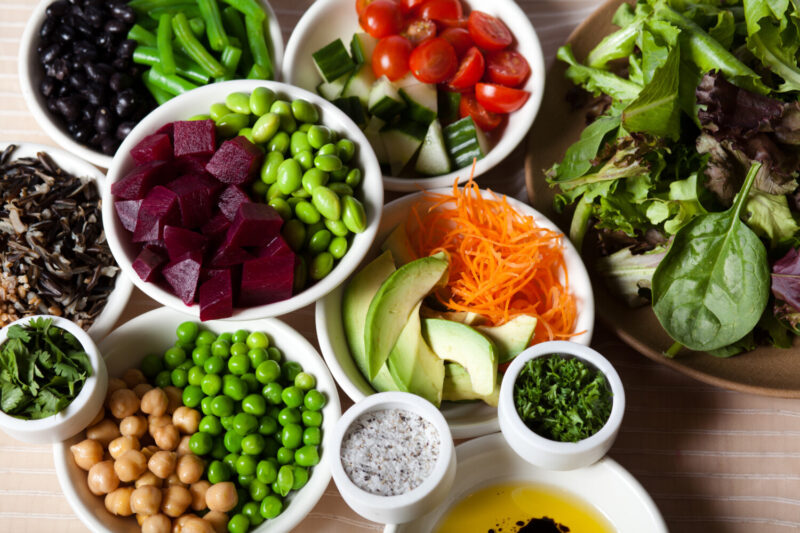 Chef Janet: "Preparing a tidy and clean kitchen is key in making the week go smoothly, both for weekend prep and meal execution each day.  Make sure you have ample space for multiple tasks, plenty of prep bowls or containers, and a garbage bowl on the counter for food scraps so that you can be more efficient. Finally, I like to make sure I start the prep process with a clean and organized refrigerator. It is so much easier to stay on track with prepping when you know you have space to store and organize ingredients for several separate meals."
Don't overthink it, simple is delicious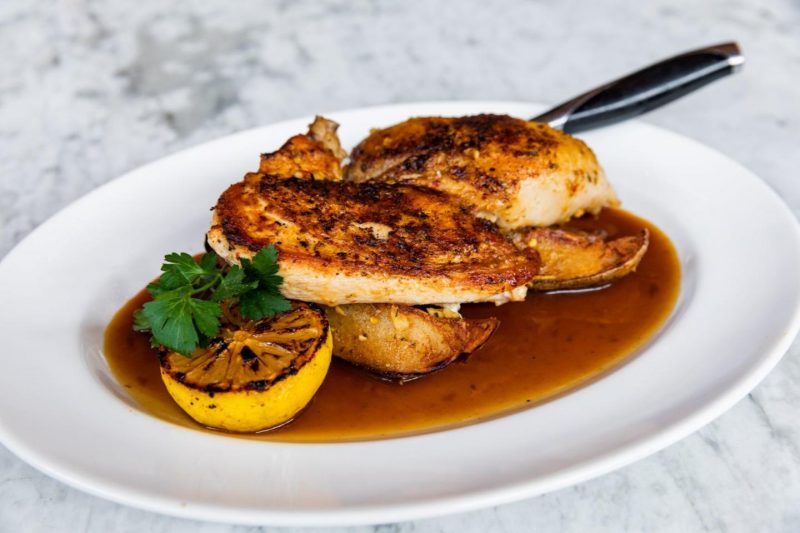 Chef Ben shares his secret to easy meal prepping: "Learn to roast a chicken (or pick a great rotisserie chicken from a trusted store). It makes a nice dinner, good leftovers for lunch and homemade stock for soup."
Try Chef Ben's recipe for Roasted Chicken inspired by Summer House.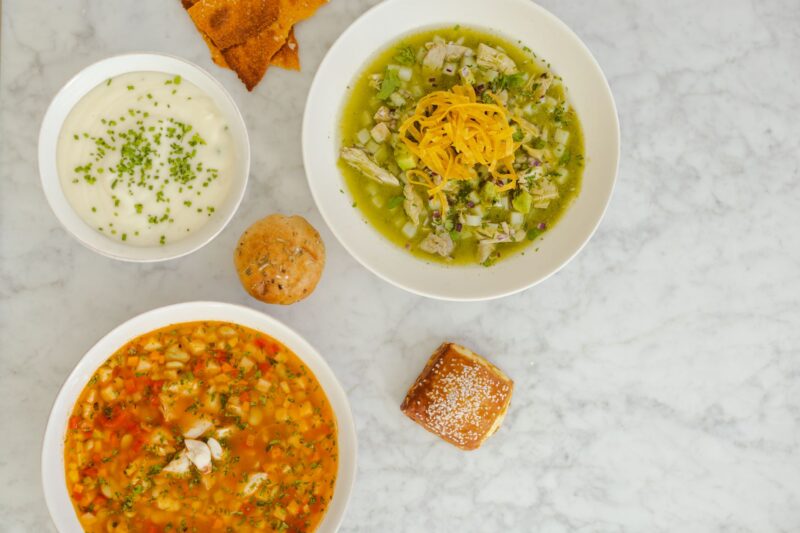 But how do you make stock? "After dinner, take the bones and throw them in a slow cooker with some veggies (onions, carrots, celery), set it to low before bedtime, and strain your stock in the morning. Then take that stock and make soup— my grandmas and great-grandmas did. So do I. Take those bits and pieces of leftover roasted veggies, and whatnot and put them to use. Soup makes a great lunch."
Here are some of our favorite soup recipes:
Chicken Tomatillo from Coastal Soups
Vegetarian Mushroom Barley Soup from Wildfire
Herbed Tomato Bisque from Coastal Soups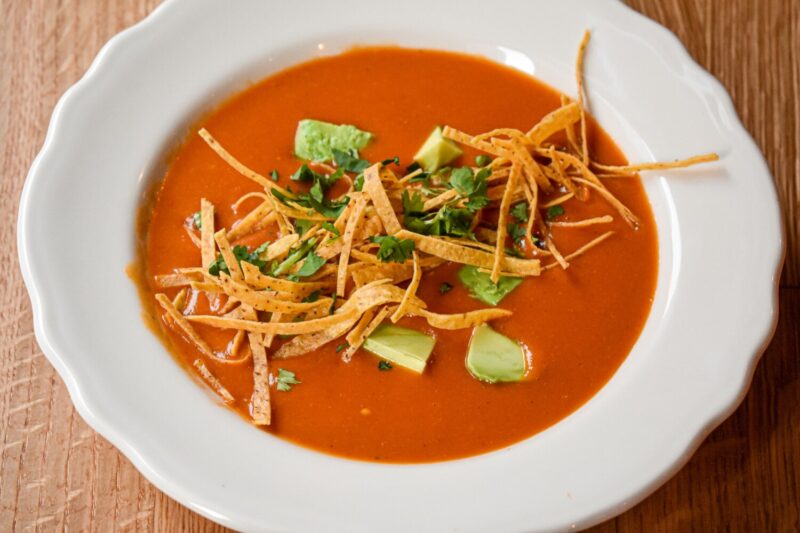 Chef Andrew: "I also enjoy preparing braised meats, soups or stews ahead of time so all you have to do is reheat them in the oven and add some garnishes before serving. If you get your "mise en place" in order over the weekend it will make your weeknights preparing dinner so much quicker and less stressful."
Weekly Dinner Sample Menu by Chef Janet
Monday: roasted whole chicken and roasted root vegetables
Tuesday: roasted pork loin, polenta with blistered cherry tomatoes and arugula salad
Wednesday: Caesar salad with pulled chicken and roasted vegetable soup
Thursday: salmon, steamed or roasted broccoli and roasted Yukon potatoes
Friday: Cuban sandwich and oven-baked sweet potato fries or coleslaw
Chef Janet's meal planning and prep tips:
Add variety to your weeknight dinners while planning ahead and re-purposing proteins and vegetables. In this menu the whole chicken is roasted fresh and then the leftover amount can be pulled and used for the Caesar salad in another meal.  Also, make extra roasted vegetables so they can easily be combined with stock and puréed into a delicious vegetable soup. The pork loin can be roasted fresh for the first meal and then the leftover portion can be chilled and thinly sliced to be part of the Cuban sandwich.  This makes for a couple of quicker meals for busier days!
Weekly Dinner Sample Menu by Chef Ben
Monday: roasted chicken and mashed potatoes
Wednesday: chicken salad and leafy greens
Friday: chicken and egg noodle soup
Chef Ben's meal planning and prep tips:
Weekdays can get busy so make food that is easy but flavorful like a roasted chicken and keep sides simple with mashed potatoes and leafy greens. Like Chef Janet, I like to use leftover chicken to create new dishes, especially since my family is not very keen on eating leftovers. Also, don't shy away from using a slow cooker, they can make meal prep easy while you get other things crossed off your weekly list.