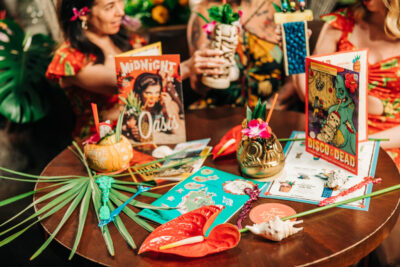 Cheers to Three Dots and a Decade
Celebrating 10 Years of Cocktails
Cheers to 10 years! Let's raise a glass to Three Dots and a Dash on its 10th birthday. The award-winning tropical cocktail oasis in downtown Chicago is offering a special menu from now through September that showcases some of the bar's signature drinks throughout the past decade that have been guest and team favorites.
Make a reservation to join the celebration at Three Dots and Dash. You can also purchase custom merch from Three Dots and a Decade including t-shirts, custom mugs and more through their online mug shop.
Here are 10 reasons to toast to as we mark this milestone:

1. A Decade of Tropical Escapes

For the past 10 years, Three Dots and a Dash has been an escape for Chicagoans and visitors alike, transporting guests to a tropical paradise with its speakeasy-style ambiance and expertly crafted cocktails.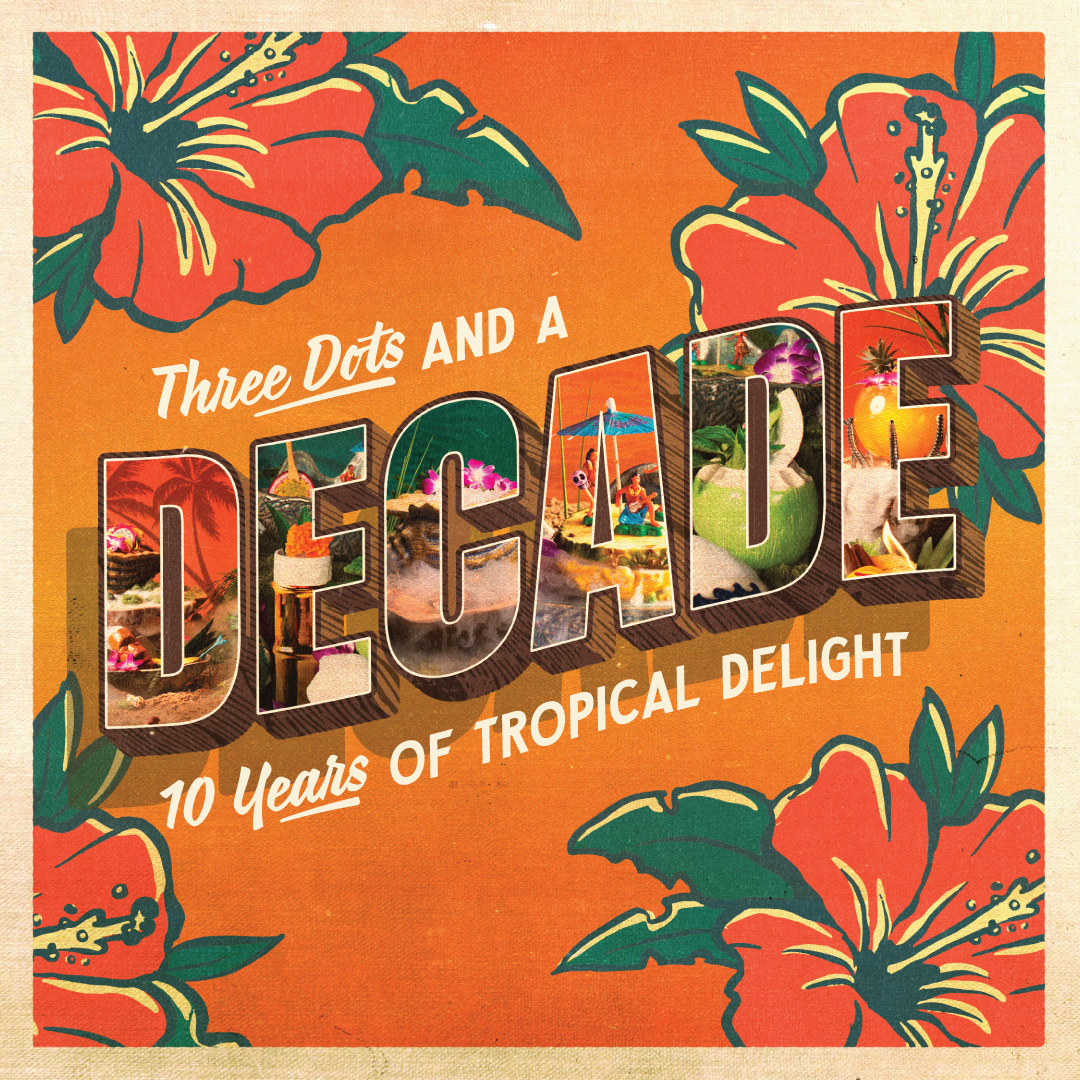 2. "Ten Years of Tropical Delight"
To commemorate the milestone, Three Dots and a Dash has launched a limited-time menu featuring ten cocktails available now – September. "Ten Years of Tropical Delight" showcases their greatest hits from the past decade, as well as a new creation, the 2044 Mai Tai, which represents the modern tropical cocktail movement. Some cocktails you'll find on the menu include the Banana Daq from 2013 celebrating one of the first signature drinks, House Without a Key from 2018 showcasing the housemade orgeat and the incorporation of Japanese Whisky into tropical cocktails, and the Strawberry Junglebird from 2021 which shows-off the team's modern techniques including the clarification of fresh fruit juices and making their own cordials.
Check out the complete "Ten Years of Tropical Delight" menu.
Make a reservation at Three Dots and Dash to enjoy the limited-time menu.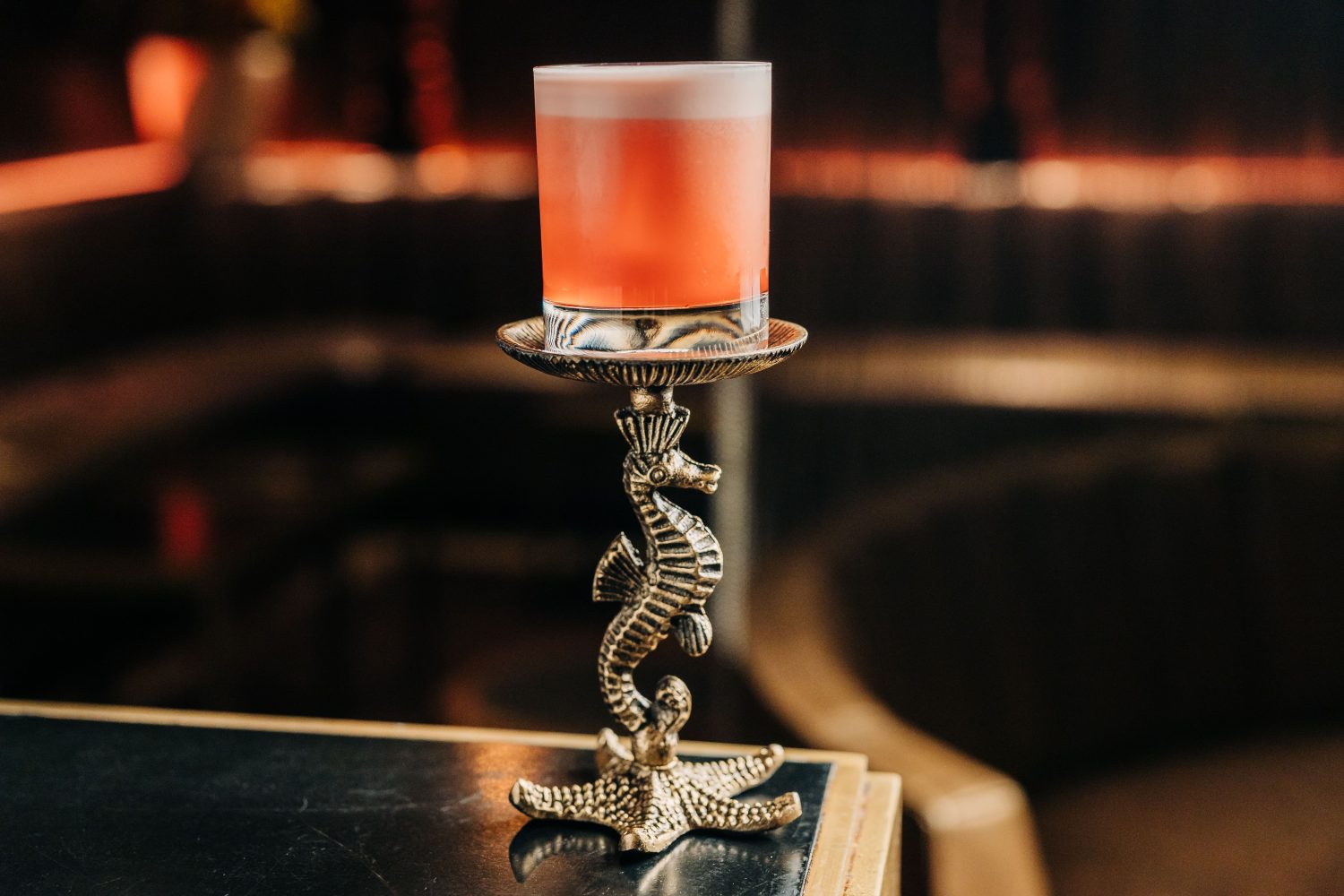 3. Collaborating with Acclaimed Bartenders
Throughout the past 10 years, the team has established partnerships with bar teams from across the globe that have resulted in collaborations along the way. Inviting friends to join the celebration, recently, Three Dots and a Dash teamed up with renowned bars from around the world for Three Dots and a Decade. Guests bars included Thunderbolt (Los Angeles, CA), Water Witch (Salt Lake City, UT), Limantour (Mexico City, Mexico) Trailer Happiness (London, England),  Friday Saturday Sunday (Philadelphia, PA), Navy Strength (Seattle, WA), Manhatta (New York, NY), Tiki Tatsuya (Austin, TX), Bar Leather Apron (Honolulu, HI) Birds of Paradise (Boston, MA), and the Aviary (Chicago, IL).

4. Evolution of Tropical Cocktails
Since opening their doors in 2013, Three Dots and a Dash has been shaking up the Chicago cocktail scene. With Beverage Director Kevin Beary and an expert team of bartenders at the helm, Three Dots and a Dash has been at the forefront of the modern tropical cocktail movement, pushing boundaries and reimagining classic drinks like the Mai Tai and Fogcutter with the finest rums and freshest ingredients.
Shake up a Mai Tai at home with this Three Dots and Dash recipe for their 1944 Trader Vic Mai Tai.

5. A Power Team
The bar team's dedication to craftsmanship and innovation is evident in cocktails like Idle Hands, a modern take on the classic Banana Daiquiri. The result is truly a labor of love, a clear banana rum and syrup from fresh bananas using a centrifuge, resulting in a completely transparent elixir that's as visually stunning as it is delicious. It's a testament to the team's creativity and attention to detail.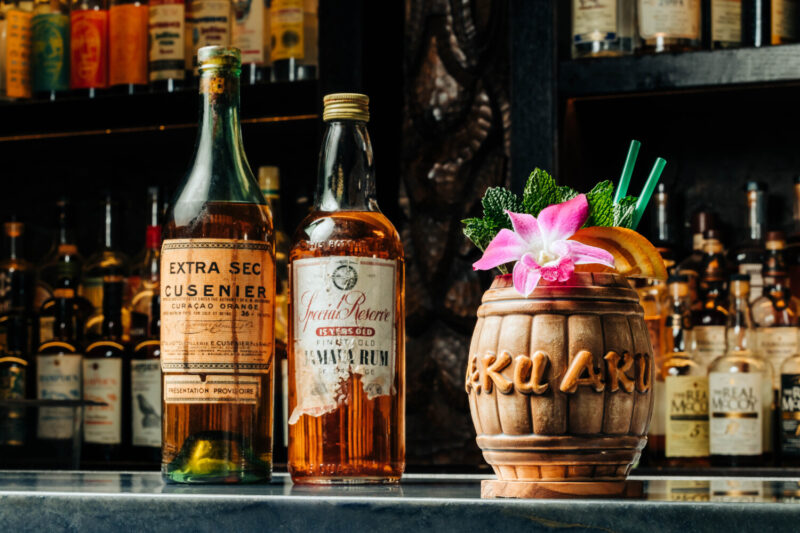 6. A Rum Library Like No Other
With a passion for rum and rhum agricole, the team has scoured from around the globe to build one of the largest rum libraries in the country, featuring over 300 rums from nearly every rum-producing country. It's a treasure trove for rum enthusiasts. Plus, guests can sip on exclusive single-aged barrels made just for Three Dots and a Dash.

7. Playful Menus and Artisanal Craftsmanship
One of the unique aspects of Three Dots and a Dash is their playful menus, which are hand-drawn and designed to delight and engage. These creative menus add an extra layer of fun and whimsy to the overall experience. Additionally, the drinks themselves are served in artisanally crafted vessels, carefully selected to enhance the presentation and enjoyment of each cocktail. From intricate mugs to beautifully crafted glassware, every detail is considered to ensure a visually stunning and immersive drinking experience.

8. The Mug Shop
The Mug Shop at Three Dots and Dash is their merch destination for  select mugs, hats, snow globes, and more. Three Dots and a Dash fans can kick up their next tropical party with limited-edition, collectible mugs crafted exclusively for Three Dots and a Dash.
Purchase limited-edition mugs and more on the online mug shop, or stop by the merch store, located inside Three Dots and a Dash.

9. Introducing The Bamboo Room at Three Dots and a Dash
In addition to Three Dots and a Dash, in 2019 the team expanded their tropical cocktail paradise with The Bamboo Room, a destination known for rare rums and elevated takes on tropical libations. The 22-seat bar tucked inside Three Dots and a Dash was recognized as one of Esquire's "Best Bars in America" in 2020 and was named the Campari One To Watch at the inaugural listing of North America's 50 Best Bars in 2022. 
Make a reservation at The Bamboo Room.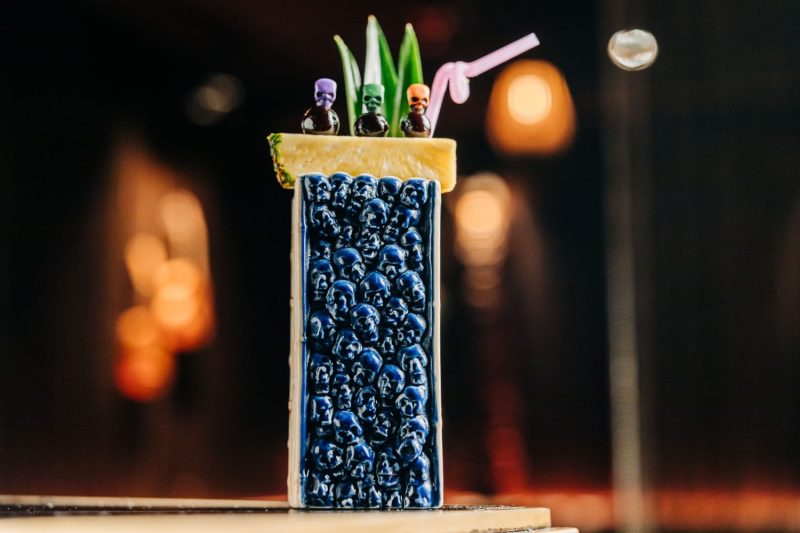 10. Accolades and Recognition
Over the years, Three Dots and a Dash has become a cocktail destination, earning recognition from the World's 50 Best Bars, Tales of the Cocktail's Spirited Awards, and more. Beverage Director Kevin Beary has also been recognized for his outstanding contributions to the industry.
A special shout-out to all of our guests who have joined us over the years, we look forward to ten more years of tropical delight!