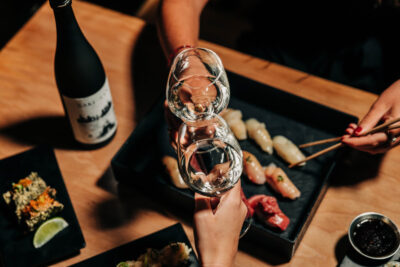 Now Pouring: Sake-san a New, Exclusive Private Label Sake
You'll want to get a taste of this
Introducing Sake-san, a private-label sake made in collaboration with the team behind the San restaurants and Sake Sommelier Daniel Bennett and Daimon Brewery in Osaka, Japan. This exclusive sake is now being poured at Sushi-san, The Omakase Room at Sushi-san and all Ramen-san locations (River North, Fulton Market, Streeterville and Lincoln Park) by the glass (3 oz. for $15, 8 oz. for $34 )and 720 ml bottle for $99, plus tax.
Make a reservation at Sushi-san.
Make a reservation at The Omakase Room at Sushi-san.
Make a reservation at the Ramen-san location nearest you.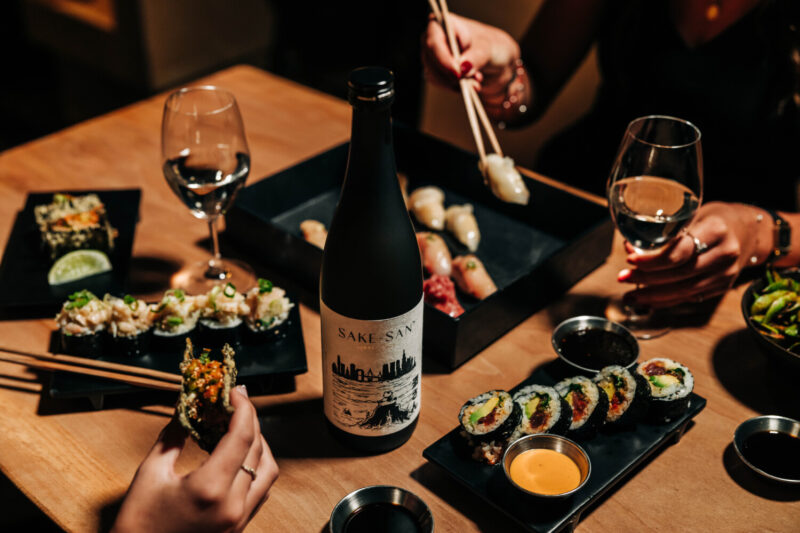 This exclusive, seasonal batch has been in the works for nearly two years. The team traveled to Daimon Brewery in Osaka to taste and hand-select this special Jizake (meaning "local sake") that pairs perfectly not only with the menu at the San restaurants but also complements Chicago's cuisine and regional preferences. Like food, sake can also be tied to place, with each city or region having a unique identity. Boasting classic Ginjo notes of honeydew are backed by the umami expressed as cocoa and toast giving it a crisp yet bold finish.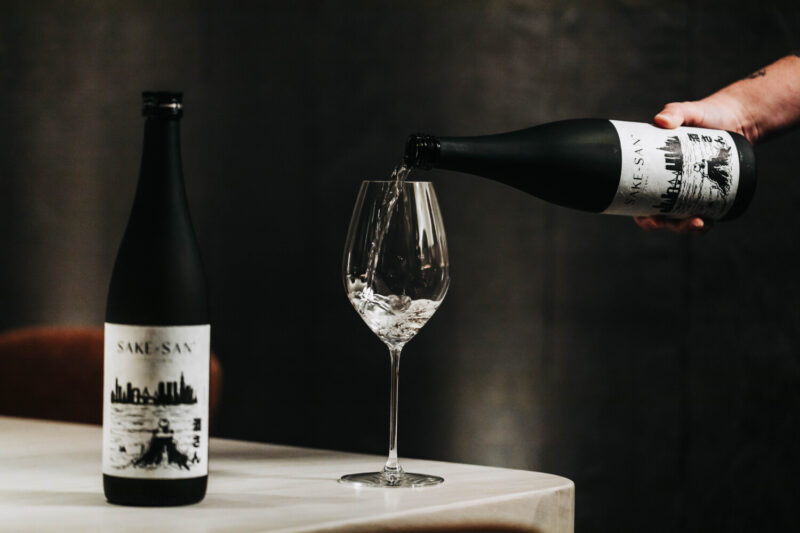 "I've always been on the hunt for special sake offerings for our guests. Although sake is having a moment in the U.S. the selection is just a small fraction of what is available from Japan," says Sake Sommelier, Daniel Bennett. "I thought, why not bring it here myself, so I set out to craft Chicago's Jizake, searching for a gateway sake that represents Japan and Chicago all in one brew and would excite seasoned sake drinkers and newcomers alike."
To learn more about sake from sake expert, Daniel Bennett, click here.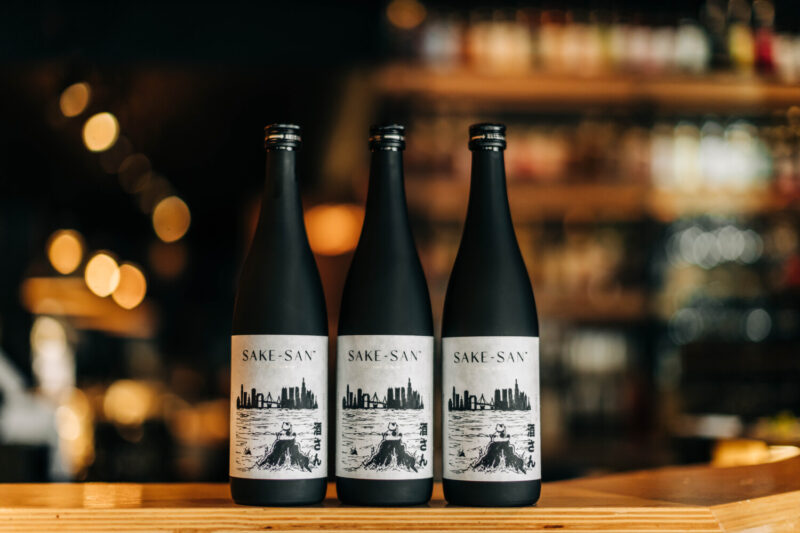 The Sake-san team personalized everything from label design to selecting the bottle into which the sake is bottled. The label was hand-drawn by Lettuce Entertain You's in-house illustrator Alex Payne and designed by graphic designer, Tia Swenson. The label illustrates the two recognizable skylines of Osaka and Chicago with the Konohana Bridge between them representing the long connected Sister Cities. 
When selecting a brewery partner a natural fit was found with Daimon Brewery. Led by the skilled Master Toji, Yasutaka Daimon, for generations, this family-run brewery has garnered regional accolades, marking its enduring excellence. The sake chosen by Sushi-san exemplifies Daimon's commitment to traditional Kansai-made sake. Through the Ginjo method, a slower fermentation process conducted at cooler temperatures, and the utilization of a unique Koji Rice milling ratio of 55%, they create an exceptionally distinctive sake catering to local preferences. Every batch of their sake is meticulously crafted in limited quantities, ensuring a more precise brew, like the batch used for Sake-san.
Wondering what to try with the new Sake-san? Daniel shared a few of his favorite dishes at Ramen-san and Sushi-san that pair perfectly with Sake-san.
Ramen-san's Crispy Tofu Mantou Bun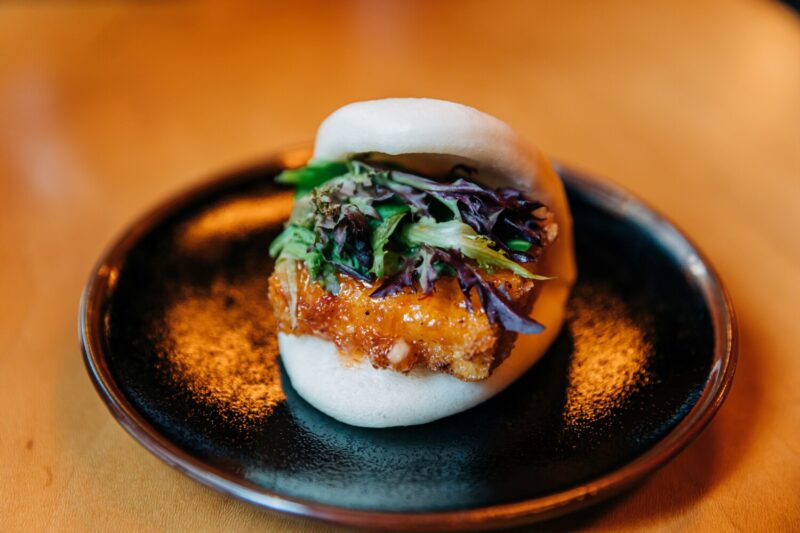 Sake-san's umami is the perfect balance to the sweet and spicy Thai sauce and its crisp finish cut the tempura with ease.
Sushi-san's D-Luxe Nigiri San Set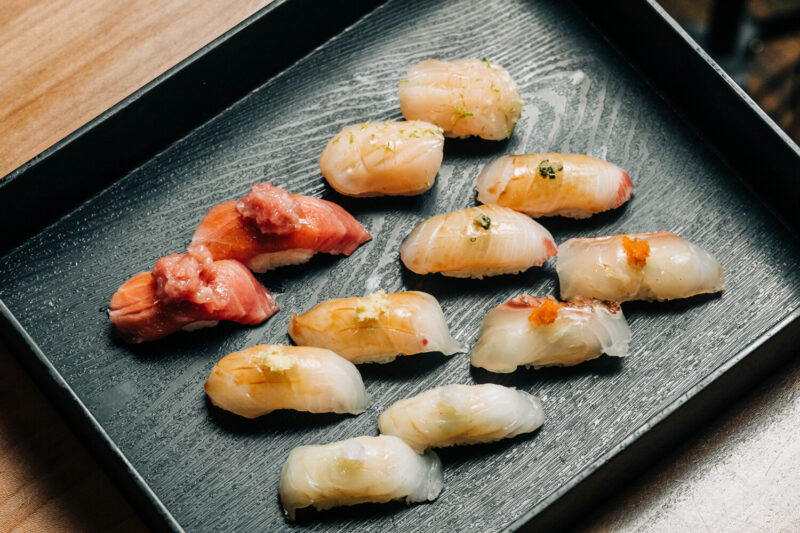 As you move through the selection of different nigiri, each will show a new side to Sake-san. Sake-san is naturally gluten-free (plus low in residual sugar and low in acid) making this duo a guilt-free pleasure!
Join us at Sushi-san, The Omakase Room at Sushi-san, or a Ramen-san location nearest you to get a taste of Sake-san! Stop by for exclusive drink specials and $6 Sushi-san favorites like the 5-piece Spicy Tuna Maki, 3-piece Spicy Tuna Aburi, Roasted Edamame, Japanese Eggplant, and more. Happy Hour is available for dine-in only. View the Sushi-san Happy Hour Menu.
Bring home a bottle of Sake-san now available for purchase for $38, plus tax at Sushi-san in River North or Konbini and Kanpai, a specialty liquor store in Chicago focusing on Asian spirits and alcohol.
Make a reservation at Sushi-san.
Make a reservation at The Omakase Room at Sushi-san.
Make a reservation at the Ramen-san location nearest you.