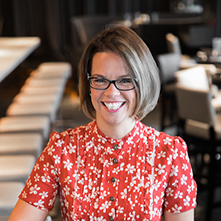 Kelly Clancy
Managing Partner
Kelly Clancy is the Managing Partner and Divisional Supervisor for The Oakville Grill & Cellar, 167 Events and RPM Restaurants, including RPM Italian (Chicago, Washington D.C. and Las Vegas), RPM Steak, Pizzeria Portofino, RPM Events and RPM Seafood.

Quite literally growing up in restaurants, Kelly worked in her father's restaurant answering phones, washing dishes, making pizzas and eventually managing during college. Having this familiarity with the hospitality industry, it was only fitting that Kelly went to work for The Kimpton Group after graduating college. She quickly realized that her passion lies in restaurants and found herself applying at Chicago's premier restaurant group, Lettuce Entertain You Restaurants.

She began her career working at Mity Nice Grill for two years before transferring to the Mon Ami Gabi division.  She moved over to Hub 51 and Paris Club Bistro & Bar in December 2011 before making the move to open RPM Italian in Chicago in February 2012. From there, she continued on the managing team that eventually opened RPM Steak and a second location of RPM Italian in Washington, D.C. In the latter part of 2019 and early 2020, she and the team opened their most ambitious project to date on the Chicago riverfront – a multi-concept space that includes Pizzeria Portofino, RPM Events and RPM Seafood.

In May 2022, Kelly and her partners expanded the RPM brand to Las Vegas with the opening of RPM Italian at The Forum Shops at Caesars Palace. Most recently, Kelly and team opened a California wine country-inspired restaurant in Fulton Market District, The Oakville Grill & Cellar, along with operating the neighboring 167 Events.

Born and raised on the south side of Chicago, Kelly and is a die-hard White Sox fan. She is married and loves live music and traveling. She believes that experiencing other cultures, cuisines, and languages is truly what life is all about and helps create authentic and meaningful experiences in the restaurants. Kelly gets her inspiration and motivation from her peers and teammates and gets her energy and joy from watching them grow and helping them become more successful. She is excited about what the future holds for RPM and watching it become a worldwide brand with global recognition.