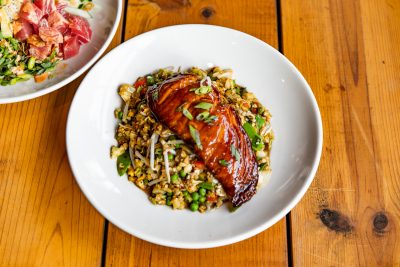 The Lettuce New Year's Resolution Guide
Let us help your reach your 2023 goals
Cheers to the New Year! It's time to stick to the goals you set for 2023 and to help, we've put together a New Year's Resolution Guide, covering everything from eating healthier to going out more!
Eat More Greens
Whether partaking in Veganuary or making a long term commitment to plant-based and vegan meals, don't let dining out keep you from your goals or vice-versa. Not sure what to order or more like where to order from? Here are some of our favorite vegan eats – and they include dessert! Have more flexibility in your diet? Our vegetarian friendly options are not to be missed.
Make Healthier Choices
Truth: You can still dine out and eat healthier.Try these dishes as healthier menu alternatives at a few of your favorite restaurants. You can still enjoy sushi sans rice, order up a burger wrapped in a lettuce cup,  because not everything "healthy" has to be a salad.
Learn New Recipes to Cook More at Home
In need of cooking inspo? Well, did you know our chefs publish recipes on Lettuce.com? Peruse our recipe collection and try something new. If you do, we'd love to see it, tag us on Instagram @lettuceentertainyou.
View our recipes at www.lettuce.com/recipes/.
To help you with weekday cooking and meal planning, here our chefs' top meal prepping tips.
Doing Dry January? Try These Zero-Proof Drinks
You can enjoy a refreshing beverage with all of the flavor and zero alcohol. Lettuce restaurants have many options for you to try from a zero-proof menu pairing at The Omakase Room at Sushi-san to delicious new zero-proof drinks at restaurants like Aba – Chicago.  Check out which Lettuce restaurants offer alcohol free drinks.
You can also make zero-proof cocktails at home like the Attitude Adjustment from Beatrix or the Post Water-Melone from Summer House.
Go Out More
Been cooped up indoors for too long? Ease back into the social scene with Happy Hour! Many Lettuce restaurants have amazing Happy Hours with exclusive drink and food specials. They're the perfect way to socialize without breaking the bank or committing to a long a night out on the town.