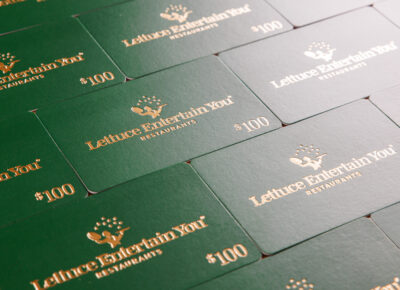 Bulk Orders
Save
5%
on orders of: $1,000 and up
Save
10%
on orders of: $10,000-$24,999
Save
15%
on orders of: $25,000 & UP
Ready To Place an Order?
Reach out to our gift card support team at gc@leye.com or use the form below.
We know you have more than a few people to thank this year. Now's the time to get your gifts and save!
Please note: Orders that receive a discount are not eligible to receive Frequent Diner Points or Holiday Bonus. Discounted pricing is only available by contacting us at the Lettuce corporate office, not at our restaurants or online.
Please note: Discount only available by purchasing online or through the Lettuce corporate office. Lettuce Gift Cards are only valid as payment for in-person dining, or as payment for the order subtotal, service fees, and delivery fees for carryout and delivery orders placed directly through Lettuce Entertain You restaurant websites, Lettuce.com or the LettuceEats ® app. Gift cards are not valid on orders placed through a third party delivery service, including but not limited to Caviar, DoorDash, GrubHub, Uber Eats, or Postmates. Please note that Gift Cards do not cover driver or staff tips for online carryout and delivery orders. There is a maximum of five (5) gift cards per transaction. Lettuce Gift Cards are accepted for final payments of private parties and catering events up to $1,000 per event, excluding deposits. Frequent Diners may choose either Frequent Diner points or the discount.